Luxury Influencer Boxes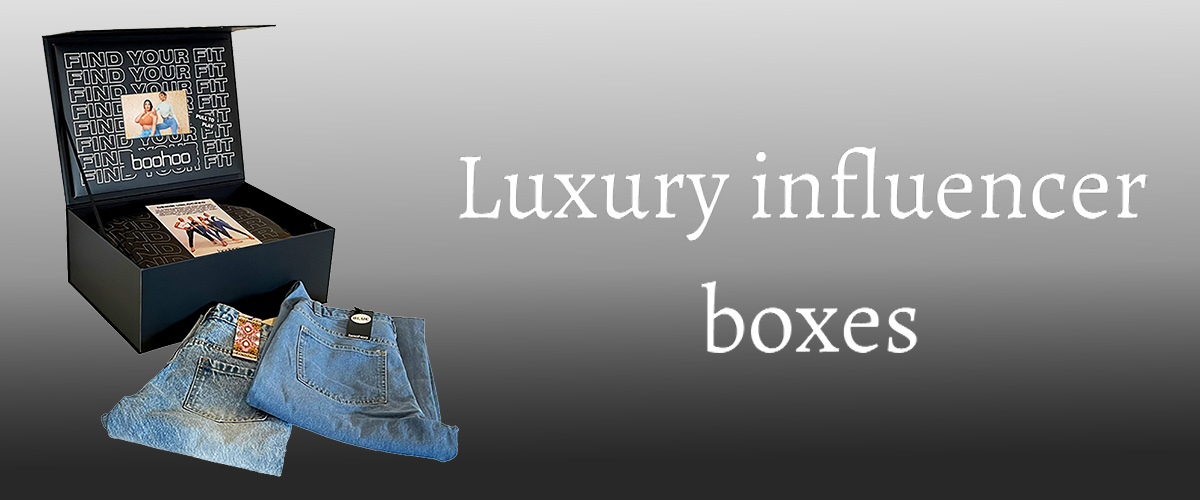 Promotional luxury packaging is one of our specialties here at Magellan World.  
We understand how important first impressions are, and what better way to create an outstanding first impression for your influencers than with a luxury presentation box to present your products.  
We've created influencer boxes for Boohoo, Man City FC, The Hundred and many more.  
We create custom promotional boxes to fit your brand's needs, your box can be any shape or size, we can add a video screen to make the presentation even more personal for your influencers. We can create the presentation you need from start to finish including the box, the fitments for the products, packing the boxes, and suppling personalised cards for each influencer to go into the boxes. We can ship these boxes out to America, and Europe.  
As well as boxes we can create tube packaging for your influencers, these are great if you have bottles, cosmetics etc. to send out.  We can create influencer beauty boxes, PR boxes and many more.
See some of our previous influencer boxes and tubes below!  
Influencer packaging
| | | | | |
| --- | --- | --- | --- | --- |
| Boohoo Influencer video box |   | The Hundred influencer video box – 8 caps |   | The Hundred influencer video box – 1 cap |
| |   | |   | |
| | | | | |
| --- | --- | --- | --- | --- |
| This Video presentation box for Boohoo was created to hold 3 pairs of jeans, and a personalised video for each influencer. This box is a full CMYK print, in a matte finish. We packed the boxes and shipped these out to the influencers in America and Europe. |   | This video box was made for The Hundred cricket competition, a new cricket concept in partnership with New Era. The box featured a 10inch HD IPS video screen and 8 New Era caps, these were delivered across America and Europe.  |   | This video box for The Hundred was slightly smaller than the 8 cap box we created for them. The video screen inside was a 7inch HD IPS screen. This box featured a single cap, we sent these out to influencers and celebrities across America and Europe.   |
|   |   |   |   |   |
| Man City FC influencer box |   | Disney influencer invitation Tube |   | Childs Farm influencer tubes |
| |   | |   | |
| This VIP kit box for Man City FC was created to hold the 2019/20 football seasons kits. This was created in the brands colours, and showcased an image of the Etihad stadium grounds. These boxes where sent out to Dubai for the owner of Man City FC.  |   | This tube for Disney was for thier 50th anniversary party of Disney World Flordia. This was sent out to influencers as an invitation to the 50th anniversary event in London. These where filled with a glass bottle and fairy lights.  |   | We created these tubes for Childs Famr to showcase there beauty products trio. These fit perfectly in the tube. This is a butted tube, with a full CMYK print. Our tubes can be made to measure. And can also include foam fitments to secure products.  |
For more information on how we can create the best influencer boxes and tubes for your brand contact us today! 
Showing 1 to 7 of 7 (1 Pages)