Luxury Influencer Boxes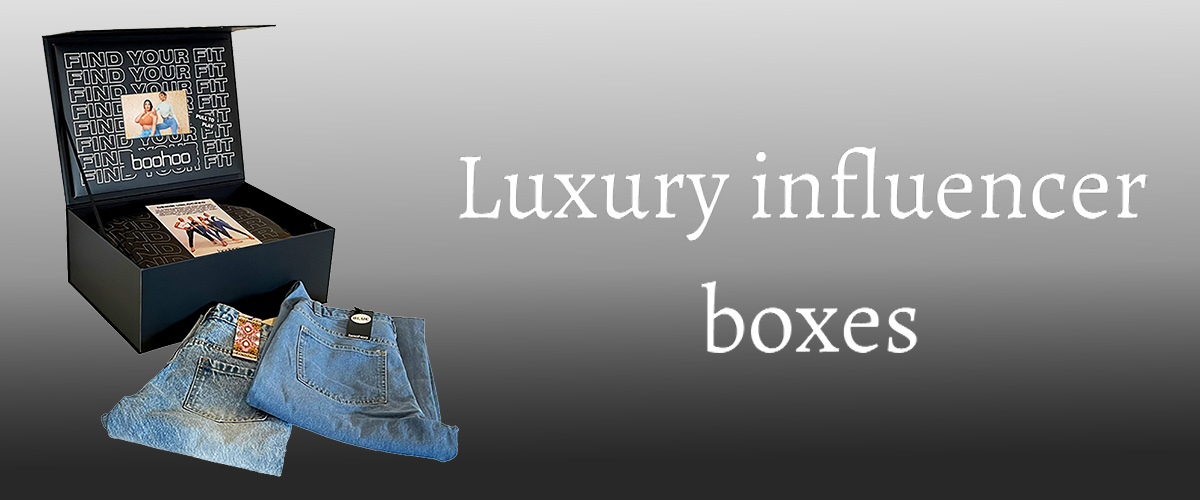 Promotional luxury packaging is one of our specialties here at Magellan World. 
We understand how important first impressions are, and what better way to create an outstanding first impression for your influencers than with a luxury custom PR box to present your products. We design and make custom influencer boxes to increase brand awareness of your company, products and services. 
We've created custom influencer boxes for Boohoo, Man City FC, The Hundred and many more. 
Influencer packaging is sent to social media influencers, and celebrities to promote your products, services, and your brand in general. These are a great return on investment, by getting social media influencers to review these products this is proven to both improve sales and increase brand awareness. 
We create custom PR packaging to fit your brand's needs, your box can be any shape or size, we can add a video screen to make the presentation even more personal for your influencers. We can create the presentation you need from start to finish including the box, the fitments for the products, packing the boxes, and suppling personalised cards for each influencer to go into the boxes. We can ship the influencer boxes out to America, and Europe. 
As well as boxes we can create tube packaging for your influencers, these are great if you have bottles, cosmetics etc., to send out.  We can create influencer beauty boxes, influencer PR boxes and many more. 
See some of our previous influencer boxes and tubes below! 
Boohoo Video Influencer Box
This video presentation box for Boohoo was used to promote their new range. this was made to house 3 pairs for jeans, and needed to have an impact and a personal message. This meant a video box would be perfect for the job.
We packed and shipped these boxes out to each individual influencer across the UK, Europe, and the US. This video box is a full CMYK print with a matt laminated finish.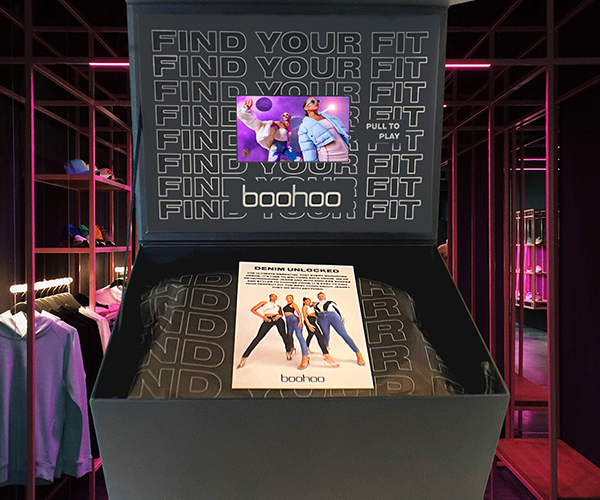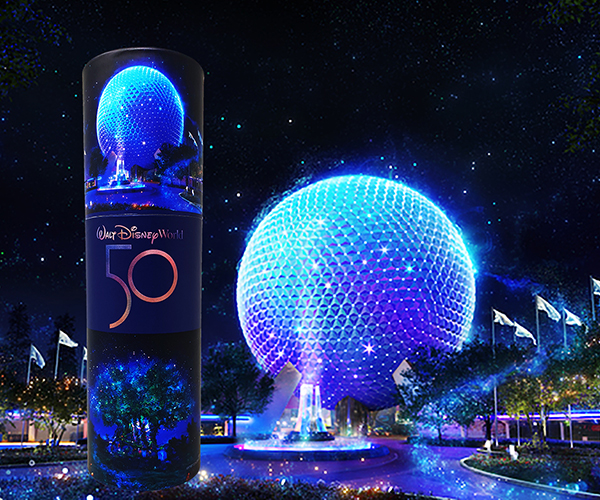 Disney Influencer Invitation Tube
This invitation tube for Disney was used to send out to influencers an invitation to their 50th anniversary party in London. These tubes are a full CMYK print with a matt laminated finish.
And held a lovely ornament with fairly lights as a gift and the written invitation addressed to each influencer. these where greatly received by everyone.
Bo+Tee Video Influencer Box
This video box for Bo+Tee was used to showcase a new active wear range. this was sent out to influencers with some items from the range as well as being sent out to Brit Manuela who created the range alongside Bo+Tee.
These where great, as they had comppartments to hold each item. With a video messages telling the influencers about the new range.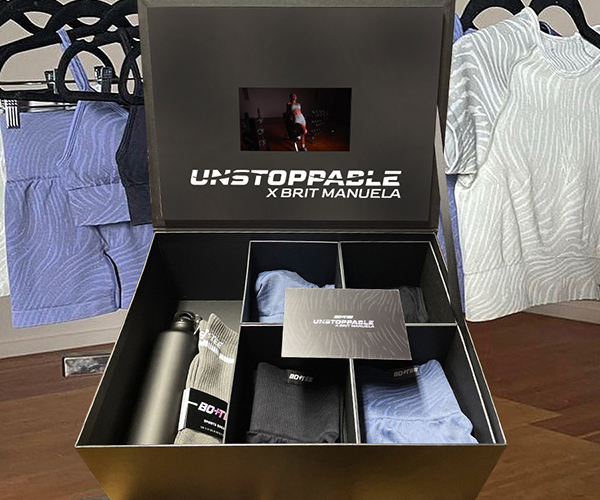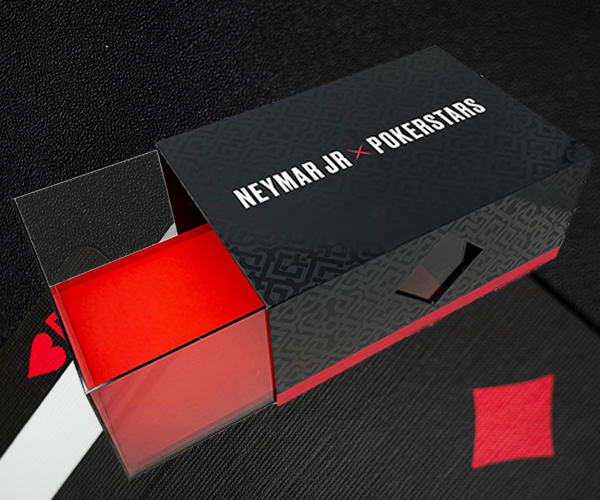 PokerStars X Neymar Jr
This range of packaging for PokerStars is huge, needing to keep to the same style of packaging and branding, we needed to create stylish unique boxes to fit the products inside. We had to create a boot box, shirt box, a ball box and a bundle box.
All of these needed to feature the signature black and red colours with the PokerStars symbol and then Neymar Jr's signature. These where loved by everyone, including Pokerstars and Neymar Jr.
Manchester City FC Presentation Box
Manchester City Fc wanted some presentation boxes for the club owner to gift to some celebrities out in Dubai. These needed to showcase the kit for the 2019/20 season, one of the boxes also needed to hold some accessories including a signed football.
We needed to show the signature branding for the club which of course included the signature blue. We also created some gift bags for these to go in, also in the signature blue with the logo on both sides of the bags.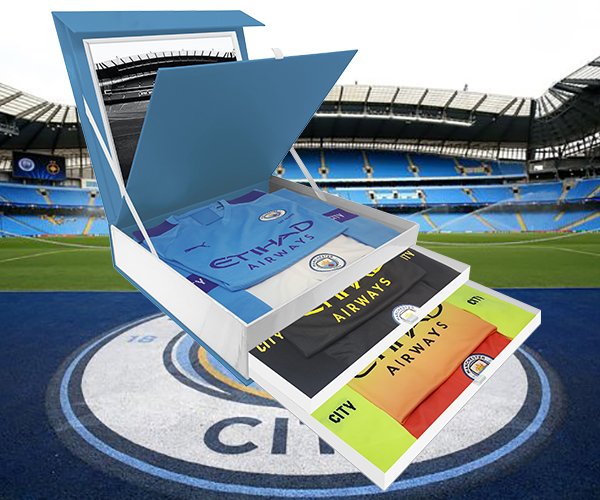 We can create custom influencer packaging for a range of businesses and brands, some of the brands we've worked with are Oh Polly, Bo+Tee, Sik Silk, PokerStars, and many more. We can create influencer gift boxes for any of your campaigns, whether it's for a new clothing line, new beauty products, a new range of shoes, accessories, even confectionary and jewellery. 
For more information on how we can create the best influencer box packaging for you contact us today on 01276 450220 or email sales@magellanworld.com. 
Check out our case studies to more information on some of the previous work we've done for Boohoo, Fujifilm, PokerStars X Neymar Jr, and more. 
Showing 1 to 16 of 16 (1 Pages)