Drinkware

Promotional Drinkware
Drinkware promotional products have become one of the most popular promotional merchandise items in the UK over the last few years. With a big focus on the environment, promotional travel mugs and promotional eco friendly mugs are a must have for your standard range of on board merchandise for your company.

Magellan offer a wide range of promotional and branded drinkware from eco friendly bamboo travel mugs to promotional bone china mugs

Whether you are after a promotional ceramic mug, reusable coffee cup, sports bottle or hot/cold bottles and flasks we have it all. Brand with your own printed design and logos or colour match to your event, fill with your favourite beverage and show everyone your new fresh take on marketing
View our full range of custom promotional drinkware
Get in contact today with our customer service to discuss your requirements and let us guide you through the products and help you find the right product for you
Promotional Drinkware Top 5 Products
As UK promotional merchandise experts we have listed below what we believe is the top 5 promotional mugs.
No.1 Promotional Travel Mugs
In our opinion the Americano and Universal promotional printed coffee mugs offer great value and usability for a superb promotional gift
The use of mugs advertising promotional products has been around forever and are still offer a great product for branding – but try a different shape and go for something different – for example the Villroy and Boch New Wave or even a promotional colour change mug
There is a wide range of promotional sports water bottles available our favourites by far are the promotional metal sports bottles that provide both hot and cold thermal options as well. These are a great promotional item for staff incentives or new starters.  We like the pantone matched branded metal sports bottles
No.4 Promotional Bamboo Travel Mugs
These are a super eco friendly version of our number one spot for Americano and Universal Promotional Travel Mugs , if you thing is ECO then go or these
No.5 Promotional Etched Glassware
By far our favourite is the Retap range of promotional glassware, these bottle have a modern look and shape, they are really nice to drink from and promote the use of using tap water to refill rather than buying plastic bottles. Read the Retap story for some great information on the branded Retap promotional printed and etched glassware
Examples of our work
Americano for RED
"Magellan suggested that we use a promotional travel mug for our New starter and Client intro packs, the response was great and we have continued to keep these in our range as a great cost effective "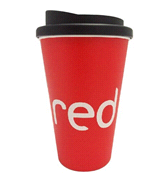 Americano for Amcor
"We used this promotional coffee mugs at a few of our summer outdoor sports events, they worked equally well for hot drinks as well as cold drinks, it was a great eco alternative to giving out and our staff loved them"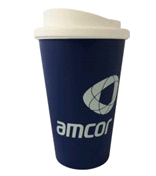 Universal mug or the NHS
" we ordered 10,000 Universal promotion travel mugs to give out to all of our Nurses to use while they work to save on endless disposable coffee cups and plastic bottles, big thanks to the team at Magellan for delivering these super quick, fantastic customer service as always"
Promotional Metal Sports Bottle for the Pixel
"Thanks for the stunning black and copper  printed metal sports bottles you did for us we gave them out to all of our staff and customers, they look super impressive in the office when we get visitors"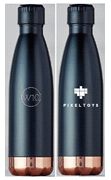 Promotional thermal printed mugs for Livingstone
"WOW, after seeing these at an event in the USA, we wanted to produce the same in the UK, we spoke t Lee who not only found the exact promotional mug we wanted but also sourced them directly from the far east as the unit cost from all the UK and European suppliers worked out double the cost. We ordered 500 of a white branded thermal oval mug with full colour printed logo, great product, fantastic customer service from Magellan, we will be ordering these again."
Promotional bone china mugs for Magellan
"Yes, we put our money where our mouth is and often produce our own branded merchandise for self promotion, for this we ordered the super stylish Villroy and Boch New wave bone china mug all branded up with Magellan artwork.
Promotional coffee mugs with logo for Uniserve
"After using the same Union jack branded mug for many years were informed that the style had been discontinued..Magellan worked with us by supplying lots of samples so we could choose an alternative promotional mug for our range. We ordered and have re-order the same for the last couple of years now. As always great customer service from Magellan"
Promotional ceramic mugs for Delta Airlines
"Thanks for the super quick turnaround on these branded business promotional mugs for our impromptu meeting , the printed mugs looked great on the desks with all the other branded merchandise, well worth the effort"<
Promotional thermal mugs for Royal Canin
"As part of a custom video box order, we wanted to include some  branded promotional thermal travel mugs to sit inside as a client gift, we branded these with our one colour logo and they worked really well as part of the whole promotion we were running, we are looking to order more of these to give out to staff.
Promotional fruit infuser water bottles for CHPP
"At last we got round to ordering these, Magellan were great in showing us various samples but we needed to print our CMYK  on the fruit infuser bottles, we narrowed it down and order 500 of these for a staff incentive and as giveaways for several of our events. We got a great response from these and it was awesome to people walking around the trade show using our branded product.