Manchester City VIP Gift Box
Introduction
Uncover the behind-the-scenes tale of the collaboration between him and Manchester City, resulting in the creation of this opulent VIP gift box designed for their most devoted fans. Witness how this gesture of heartfelt appreciation captivated their audience.
Client & Project
Manchester City's decision to create custom VIP presentation boxes containing a hat, scarf, and a signed ball is rooted in their desire to provide memorable and personalized experiences for their VIPs. Including these specific items reflects an understanding of the fans' emotional connection to the club and their desire for tangible mementos. By offering hats and scarves featuring the club's colors and logo, Manchester City not only keeps its fans warm but also deepens their sense of belonging and identity with the team. 
Including a signed ball elevates the presentation boxes' value and exclusivity, connecting fans directly with their favorite players and the club's history. Gifting these signed balls to VIPs acknowledges their support and immortalizes their loyalty. These VIP presentation boxes symbolize the club's commitment to fans and strengthening the bond with its most dedicated supporters.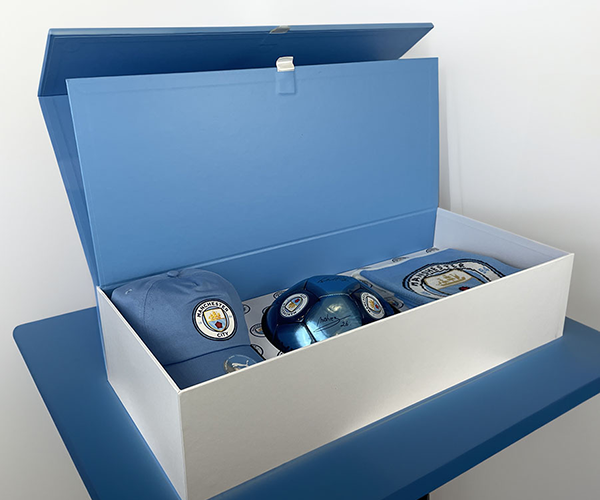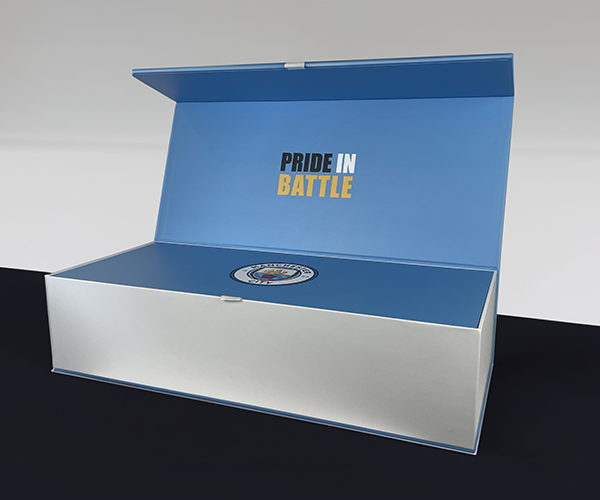 Presentation Box 
The presentation box is meticulously designed with precise specifications to leave a lasting impression. It boasts generous internal dimensions measuring 600x260x140mm, providing ample space for its contents. Crafted from robust 4 board case and tray made from 3mm rigid board, this box exudes durability and quality. Inside, an internal shelf with a ribbon lift ensures elegant and convenient item access. An inner ridge subtly reinforces the box's structural integrity by providing support for the shelf.
To enhance sophistication, two side ribbons made of gross grain material adorn the box, adding both visual appeal and practicality for easy handling. Finally, an internal fitment with a printed card on top securely holds the merchandise, ensuring a neat and organized presentation.
Printed Laminate Bags 
The Presentation Bag designed to complement the Manchester City Presentation Box is distinguished by its elegant and cohesive design. The bag boasts a solid blue exterior featuring the Manchester City logo on both sides, coated with a matte laminate finish to convey a sleek and professional appearance. This branding ensures instant recognition of the association with the esteemed football club.
The bag's interior upholds the solid blue theme, maintaining a consistent and visually pleasing presentation. To add convenience, the bag includes a robust cotton ribbon handle, 40mm in width, ensuring comfortable carrying while preserving the overall aesthetic and quality of the presentation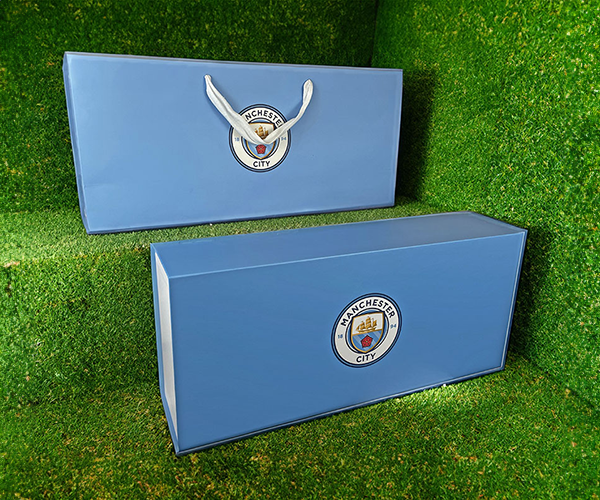 YouTube Video
For a deep dive into the remarkable VIP presentation box featured on our website, you've come to the right place. While our webpage offers a glimpse of our offerings, our aim is to provide a comprehensive explanation and give you an up-close look at this project.
In this video, we'll explore the intricacies of these boxes and bags and offer you a firsthand perspective of the final product. We'll show how each component comes together to create a seamless and visually stunning presentation. If you share our passion for outstanding packaging and want to gain insights into the craftsmanship and innovation behind this achievement, please continue watching. Get ready to be captivated as we unveil the enchantment of this exceptional presentation box.
Conclusion
These exquisite VIP gift boxes are an ideal promotional tool and marketing strategy for your business. In the case of Manchester City, they not only elevated their existing brand awareness but also seamlessly aligned with their unwavering commitment to football.
For more information on our promotional packaging, contact us today on 01276 450220 or email sales@magellanworld.com.