Manchester City Triple Kit Box
Introduction
Discover the behind-the-scenes story of how he collaborated with Manchester City to create this luxurious VIP Kit gift box for their most dedicated fans, captivating their audience with this heartfelt appreciation.
Client & Project
Manchester City, the renowned football club, has created VIP presentation boxes with a unique purpose. These boxes are sent to the club's owner in Abu Dhabi and distributed to VIPs, enhancing the club's image and exclusivity. It demonstrates the club's commitment to strong relationships and gratitude to key stakeholders. Such presentation boxes emphasize personalized, high-quality gestures in professional sports.
Additionally, a dedicated presentation bag complements the Triple Kit Display VIP Presentation Box, adding sophistication and functionality. These bags aim to enhance the overall experience for recipients, showcasing the club's meticulous attention to detail in presentation.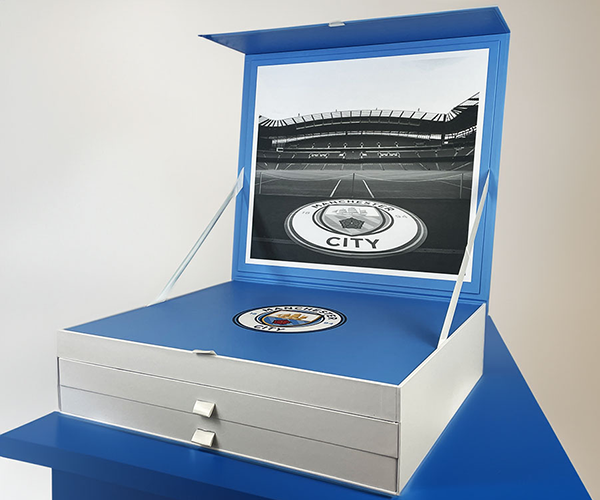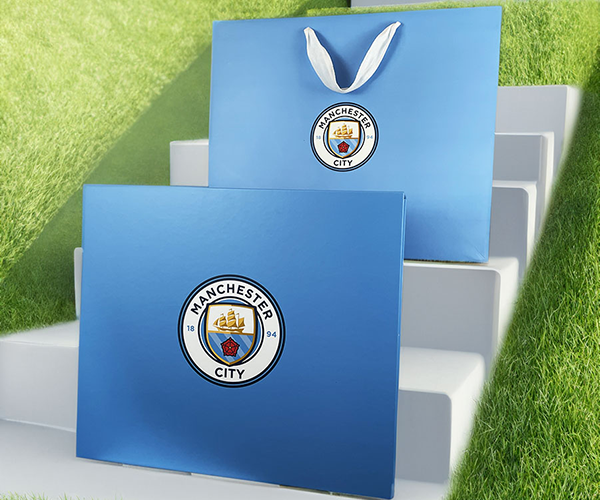 Presentation Box Structure
The presentation box strikes a balance between elegance and functionality. Its magnetic front closure offers a secure and sophisticated way to reveal the contents, combining luxury with practicality. This mechanism ensures the contents stay in place, enhancing the overall unboxing experience. Inside the lid, a black and white stadium image adds a personal touch, connecting to the club's history and sense of place.
Internally, the box features an innovative hinged shelf with a ribbon for visually appealing and convenient access to the contents. Opening the ribbon lift reveals the main kit prominently displayed on the top shelf, making it the centerpiece of the presentation. Two internal drawers, each designed for one kit, add organization and tidy storage. Full-color printing throughout the box design introduces vibrant visuals, reinforcing the club's identity and branding.
Triple Kit Display
Inside the Manchester City Triple Kit Display VIP Presentation Box, you'll find a well-organized setup with decorative ribbons for easy opening. The kits, including the main, away, and second kits from PUMA, are carefully chosen and complete. The box utilizes a double drawer system with custom dividers to maximize space and keep the kits neatly displayed.
These boxes are tailored to hold specific quantities and sizes, ensuring a perfect fit for each VIP recipient, whether it's 30 XL kits, 30 L kits, 20 M kits, or 10 kits in kids' sizes (S, M, L).
If you want to create a similar box, you can even include a video screen for personalization and customization, adding an interactive touch to the presentation. This makes the Manchester City VIP presentation box an exceptional and memorable gift option for VIPs.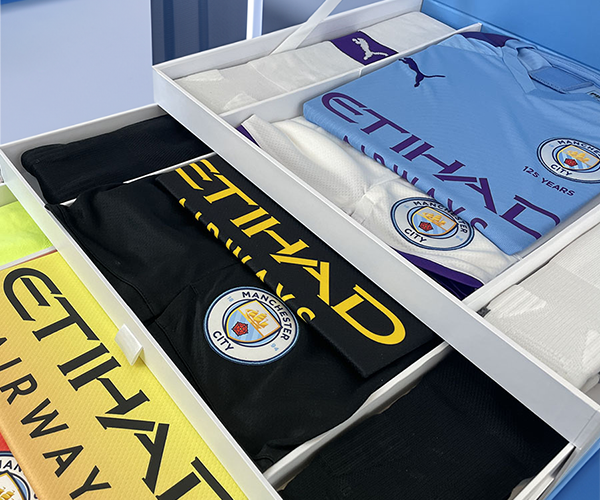 YouTube Video
For a detailed exploration of the impressive VIP presentation box featured on our website, you've come to the right place. While our webpage provides a glimpse of our offerings, we're here to offer a comprehensive explanation and provide an intimate look at this project.
In this video, we'll delve into the intricacies of these boxes and bags, offering you a firsthand view of the final product. We'll demonstrate how each element comes together to create a cohesive and visually stunning presentation. If you share our passion for exquisite packaging and want to gain insights into the craftsmanship and innovation that made this achievement possible, please continue watching our video. Prepare to be amazed as we unveil the magic behind this exceptional presentation box.
Conclusion
These exquisite VIP kit gift boxes serve as the perfect promotional tool and marketing strategy for your business. For Manchester City, they not only heightened their existing awareness but also aligned perfectly with their unwavering dedication to football.
For more information on our promotional packaging, contact us today on 01276 450220 or email sales@magellanworld.com.