Video Business Cards
Video Business Cards and Marketing Cards
Video Brochures are a small but powerful advertising tool that is a perfect promotional product for a company of any size. LCD video Business cards are the size of a regular business card but feature a 2.4 inch video LCD screen. The video screen will play your custom video message and video content which will instantly capture your audiences attention and get them listening to your promotional message.
Video brochures are a great giveaway item for expos and gifts to new clients; they ensure your brand's message is taken away and remembered. They are portable thanks to their onboard battery system and can continually play your message for around 2 hours before they need to be recharged.
Why chose Magellan?
Magellan has a history of providing perfect video business card solution for your needs. We guarantee to deliver a professional customer experience from your first enquiry to the day your custom video marketing cards are delivered to your door.
Our expertise is shown in the quality of your video marketing card. Our video business cards are guaranteed to impress you and your clients. Magellan is the industry leader in this high-tech video promotional product.
These tools will get your branded message to your clients and will engage them throughout. Our promotional video packaging products are made with the highest quality of materials and techniques which allows you to stand out even more from your competition. Our range of video retail cards can be paced directly into your target customers' hands and are guaranteed to make sure your name is remembered. Create a video business card today with Magellan, they are nothing like your traditional business card.
---
Some of our clients
---
Why would you use a Promotional Video Business Card?
Custom video business cards are a great tool for expos, and marketing/advertising your product or service. The full range of customisable features we offer allow you to create a unique branded video marketing card which will make you stand out from the crowd and create an immediate unforgettable impression of your promotion on your client.
Your clients will be blown away with a multi sensory experience which is far more impressive than a normal, printed brochure.
Are Video Business Cards right for my business/brand?
Video brochure business cards are ideal if you are looking for a brand new, innovative and effective marketing solution for your company. Video marketing cards are more effective then your standard business card as they feature more branding area and an embedded video screen.
Video business cards can be reused making them a very efficient use of your marketing budget, perfect for small or large companies.
Is video marketing successful?
Video in print marketing is successful because of human nature. People remember 10% of what they read which makes the classic marketing tools, such as brochures, not very successful. If you use a multiple sensory experience and provide promotional information that can be heard and seen at the same time then your clients retention rate will go up to 50%!
This is exactly what digital business cards and video marketing does and therefore is guaranteed to increase how many clients remember you and your brand.
---
Request A Quote For Your Video Business Marketing Card!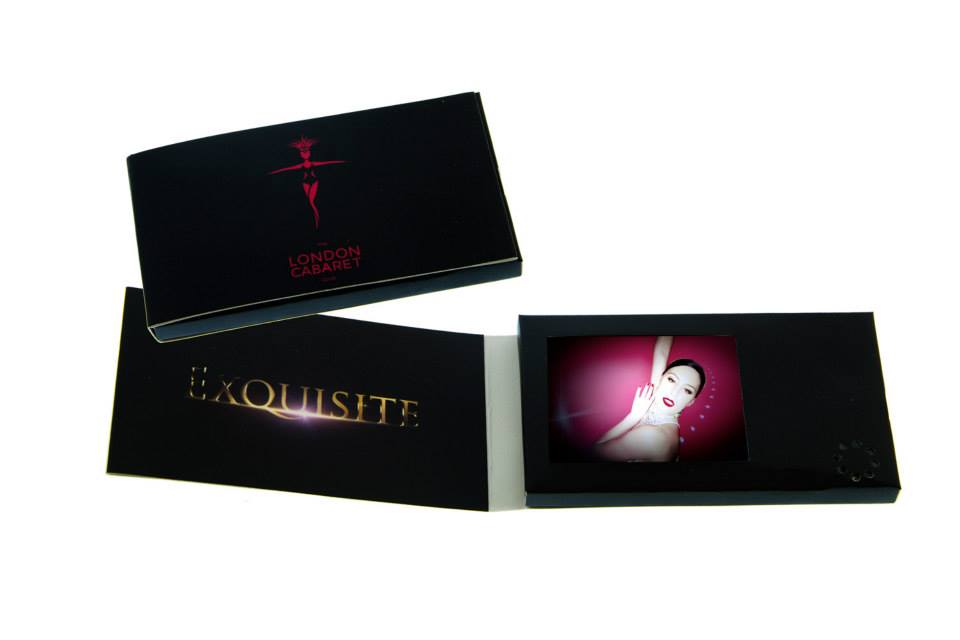 Magellan is a company that you can actually talk to. If you pick up the phone and call us, we will be happy to talk you about what we do. We don't like using forms and emails. We prefer to talk to you over the phone so we can talk you through our process in great detail and explain anything that is not straightforward.
If you are looking for a company who can provide industry leading advice on which printing options and features are best for your brand, then contact us today! With Magellan, you don't need to worry about the minimum order quantity; we can support orders from as low as one! We can distribute your business cards across the world to individual addresses and mange your promotional merchandise project. Contact us today to arrange a digital video business card sample.
Get in contact with us today and we can discuss your video business card project!
---
What memory capacity options can you provide?

The business cards are available in 128mb and 256mb memory capactity.
What memory capacity do i need?

The business cards only require a small amount of memory, as we can compress your video. We recommend that a video is less than 5 minutes.
How long is the battery life of a video marketing card?
You can expect aroud 1 to 2 hours of continuous playback as the screens we use are very efficient.
What battery options can you provide?
we can place more batteries inside your video retail card to meet your demand. However, it is not typcially done.
Are video business cards rechargable?
Yes, they are. You can recharge them video the mini or micro USB port embedded into your business card.
Are video business cards reusable?
Yes, the are 100% reusable. If you need the video to be changed, you can upload a new presentation video file from your PC onto the brochure via a mini or micro USB port and a USB cable. 
Where can i place my logo on a video business card?
We offer a full colour print across the entire business card. The slider business card is larger and therefore offers more branding space. We also offer luxury finishes such as embossing, debossing, foil blocking and spot UV gloss and many more.
How much do video business cards cost?
Video business cards are the most cost-effective video marketing tool we can provide. Contact us today to recieve your specific video business card price or to recieve our video business card price guide.
What styles of video business cards do you supply?
We offer a video slider card and a standard design. The slider features a pull togethers whihc allows you to slide the screen out from behind the centre. The standard design features a magnetic closure front flap.
What screen sizes are available for video business cards?
Video business cards are only available with a 2.4inch screen. If you are looking for a larger screen then check out our
video brochure range.
How long will my video business card take to get to me?
Your cards will be with you 2-3 weeks after your artwork has been signed off. It typically takes a week for this process to finish.
How do video event cards operate?
Video business cards feature a magnetic system so that when you open your mailer card the video starts playing.
Do video business cards come with buttons?
No they do not as there is no room for them. Our range of video brochures do support buttons as they are larger. 
What business card sizes do you offer?
Our business cards are avilable in two styles. The largest is the slider card whihc is 22cm by 6cm when opened. The cover business card is 19cm by 5cm when opened.