Stryker
Introduction
The role of presentation packaging in a business setting cannot be overstated—it elevates the customer's sense of anticipation and excitement for the products within. A thoughtfully designed package not only captures attention, but also enriches the overall customer journey. We were delighted to partner with Stryker, a company committed to making meaningful contributions to society through their medical innovations. Collaborating with such an influential brand was a privilege.
Client and Goal
Stryker is a global leader in the medical technology sector, motivated by the goal of improving healthcare for all. Their focus lies in delivering cutting-edge products and services in the medical and surgical fields, aimed at enhancing both patient care and overall healthcare performance.
Stryker has developed a specialized cranial portfolio tailored for leading neurosurgeons, featuring their most advanced products to elevate surgical outcomes. Receiving this presentation would indeed be an honor. Given the significant influence and impact of the company, it was imperative to present their message and offerings in a refined manner. This box serves as more than just a container; it's a tangible piece of Stryker's legacy.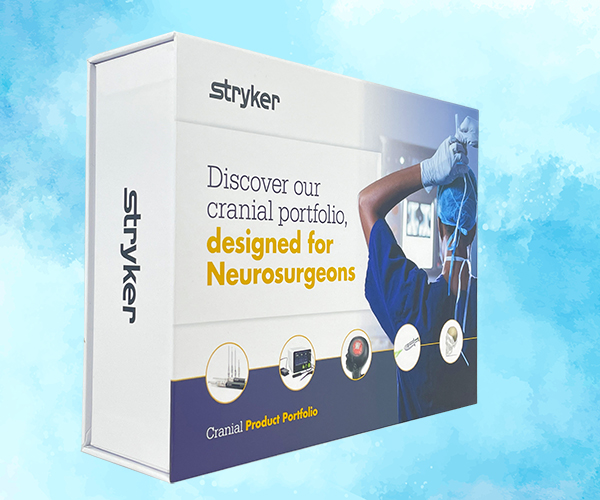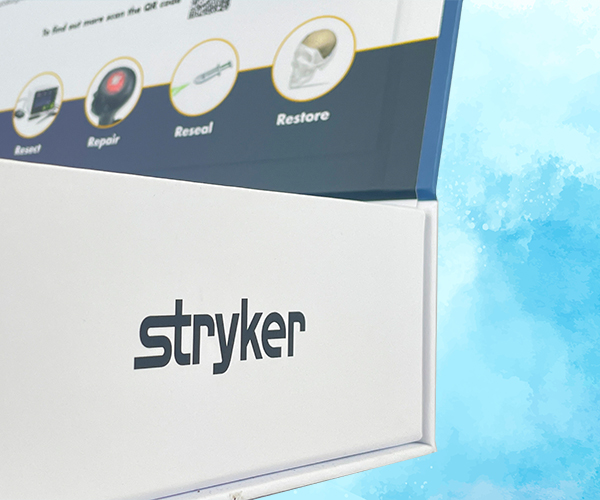 Bespoke Presentation Box Specifications
The presentation box skillfully encapsulates both Stryker's global influence and critical achievements. Given this, it was essential for us to craft a refined box and we succeeded in doing so by integrating specific features:
- Bespoke custom-branded presentation box
- Four-board case and tray
- Magnetic closure
- 3mm rigid board
- Internal foam fitment
- Dark grey closed-cell foam
- Internal dimensions: H298xW218xD73mm
- Full CMYK print
- Matte lamination
Custom Fitment
Upon opening the presentation box, you'll find a custom dark grey closed-cell foam insert. This choice is optimal for ensuring the medical tools remain both secure and undamaged, while also elegantly showcasing them. The foam includes thoughtfully designed thumb cut-outs surrounding each item, adding practicality and ease to the process of removing the products from the box. Moreover, each foam cutout is precisley tailored to accommodate every intricate detail of the individual products.
The open-cell design of the foam allows for a sophisticated surface texturing process, which enhances the color depth and elevates the overall luxurious aesthetic.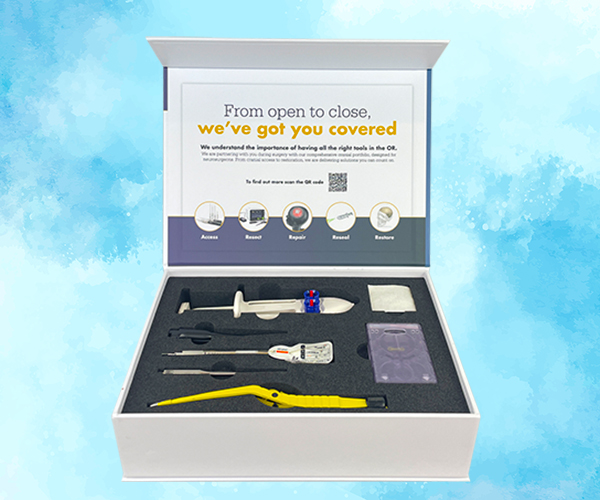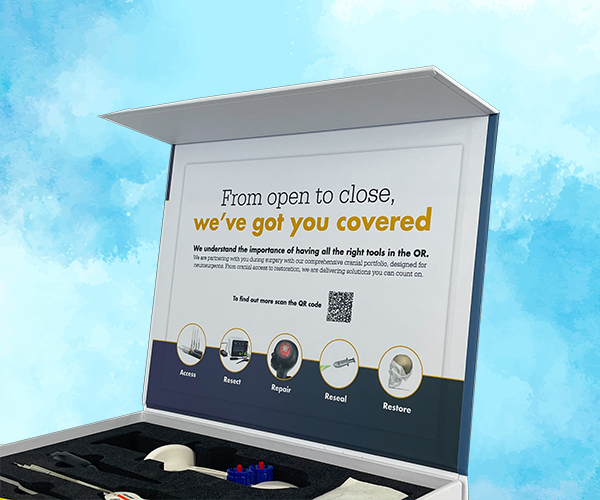 The Outcome
The Stryker presentation box's final outcome impeccably matched their brand identity and objectives. It conveys a sense of precision, with an exacting focus on details that resonates with Stryker's sophistication. The inclusion of the barcode enhances the overall presentation, securely holding the medical tools in the foam insert.
Conclusion
The ultimate product was a custom-designed Presentation Box that successfully materialized Stryker's vision, blending the critical nature of their message with a visually appealing and engaging design. From the carefully chosen color scheme to the focus on the cranial portfolio, this box is a true reflection of Stryker's brand morals and principles.

For more information on our presentational packaging, contact us today on 01276 450220 or email sales@magellanworld.com.