Spritz Studio
The Client and Goal
Spritz Studio stands as an inventive agency acclaimed for its pioneering marketing tactics and services aimed at elevating brands. They possess a distinct talent for conceiving captivating scenarios and impactful visual narratives tailored to their clientele. Their forte lies in shaping distinctive, unforgettable brand tales that deeply resonate with diverse audiences.
Creating a custom presentation box packed with branded items perfectly matches Spritz Studio's immersive brand approach. By meticulously designing a box containing all things No.3 Gin, they vividly showcase their devotion to personalised branding. This initiative underscores their commitment to enriching client relationships and delivering thorough brand experiences. The presentation box embodies their creative prowess, offering a lasting means to display their expertise and immerse clients in the world of No.3 Gin memorably.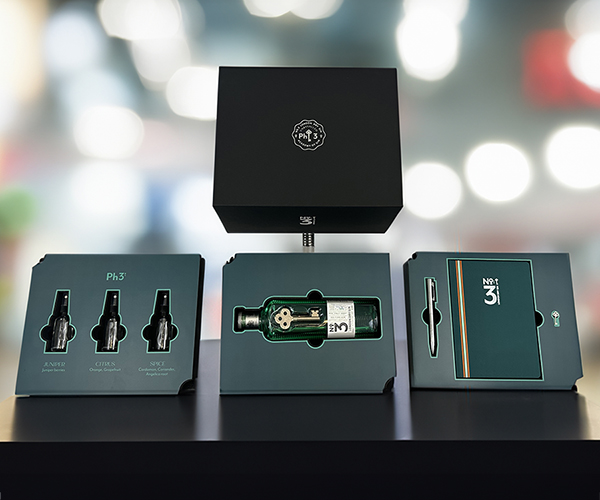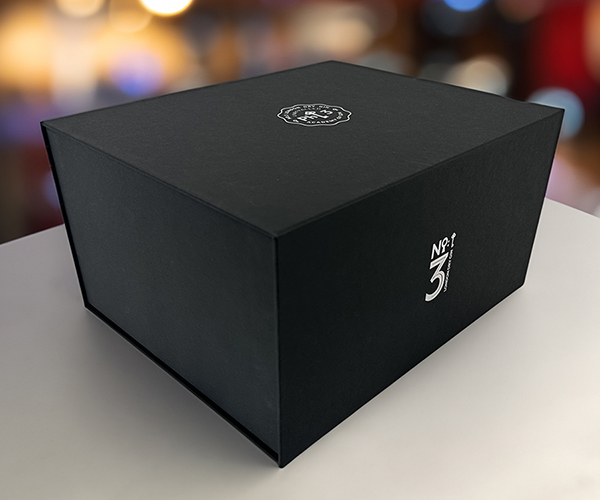 Custom Branded Presentation Box
At the forefront, a distinct and personalised presentation box takes the spotlight, featuring bespoke branding that sets it apart. The box showcases a 4 Part Magnetic V-Cut Case with a Score-Cut Base, augmenting both its functionality and visual appeal. Internally, the box measures 280 x 250 x 160mm (with a clasp of 160mm), providing ample room to seamlessly accommodate its contents.
Crafted with precision, the case board and base board are fashioned from sturdy 3mm unlined grey board, combining durability with a refined touch. This careful material choice underscores the dedication to meticulous craftsmanship and high standards inherent to the presentation. Collectively, this thoughtfully crafted presentation box exemplifies the harmonious blend of aesthetics and practicality, delivering not only visual allure but also steadfast reliability.
Customisation
It showcases a refined covering crafted from 120gsm Wibalin Black® Natural material, remaining unadorned by any form of print or lamination. A precise foil application, positioned over an area approximately 100x100mm, imparts an element of refinement to the overall design. Complementing this exterior, the inner case liner maintains consistency with the same 120gsm Wibalin Black® Natural material, preserving its unprinted and unlaminated state.
Providing structural support, the base is enveloped in the identical 120gsm Wibalin Black® Natural wrapping, untouched by print or lamination. The base liner, however, remains unadorned as it is strategically designed to be concealed beneath foam, ensuring both safeguarding and a seamless appearance. This meticulous amalgamation of carefully chosen materials and finishes culminates in a presentation that emanates a subtle yet profound sophistication, showcasing an unwavering commitment to intricate craftsmanship.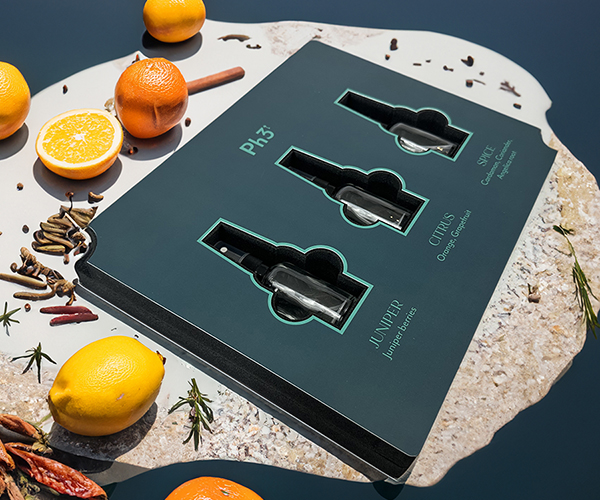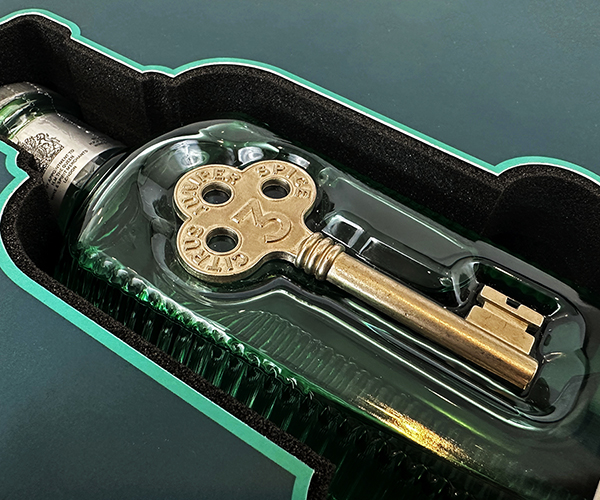 Contents & Extras
The foam insert, in dark grey closed cell, has three removable layers, totaling 160mm height, with thumb cuts for easy handling. The top layer sports a 350gsm Silk foam topper, boasting a colorful print and an anti-scuff matte lamination for lasting appeal.
Each insert layer holds a thoughtfully arranged set: the top tier accommodates three spray bottles, the middle tier includes a matching key alongside a gin bottle, and the bottom tier cradles a custom notebook, pen, and key-shaped badge.
Enhancing the gifting experience are custom-designed ribbons with a Pantone print and embossed swing tags displaying the client's logo. This package enables the client to effortlessly assemble and present the boxes themselves, ensuring a seamless blend of presentation and branding when fulfilling their order.
For more information on our presentation boxes or influencer packaging, contact us today on 01276 450220 or email sales@magellanworld.com.