New Balance x Raheem Stirling
Introduction
In today's highly competitive sports landscape, distinguishing oneself is paramount. This is precisely why New Balance's introduction of custom Acrylic Presentational Packaging is a game-changing move to set themselves apart from the competition, showcasing their collaboration with Raheem Stirling.
Client Backgrond & Project
Magellan took great pride in creating the acrylic presentation box for the New Balance x Raheem Sterling collaboration. We approached this project with a deep understanding of its importance, recognizing that it symbolizes New Balance's commitment to excellence and our dedication to exceptional craftsmanship. Our collaboration with Raheem Sterling allowed us to blend creativity and innovation, resulting in a presentation box that not only houses premium products securely but also captures the essence of our partnership.
With a focus on precision and a passion for crafting exceptional packaging, Magellan brought New Balance's vision to life. The New Balance x Raheem Sterling acrylic presentation box reflects the essence of this collaboration in every detail, serving as a testament to our craftsmanship. We are honored to have played a key role in delivering this unique experience.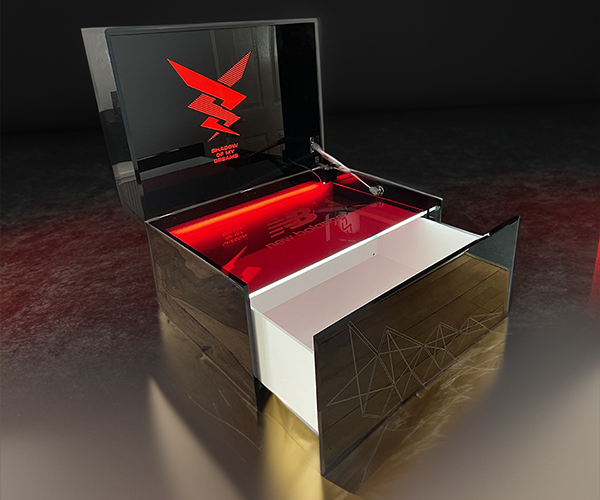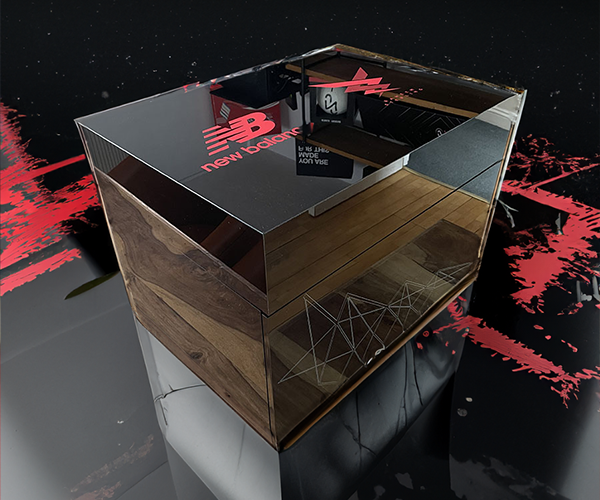 Acrylic LED Presentation Box
The acrylic presentation box from the New Balance x Raheem Sterling collaboration is a masterpiece of craftsmanship, reflecting Magellan's commitment to quality. It's crafted from premium acrylic, ensuring durability and luxury, highlighting the exclusivity of the collaboration.
The outer cover of the presentation box boldly showcases the iconic red NB and RS logos, representing New Balance and Raheem Sterling's partnership. Inside, a captivating red LED logo adds visual appeal, enhancing the overall presentation. Magellan's dedication to blending artistry with innovation ensures that every aspect of this box enhances the experience, making it a collector's item for fans of both New Balance and Raheem Sterling.
The Finer Details
The presentation box is not just stylish but also practical, designed with meticulous attention to detail. It can neatly hold a pair of size 8 football boots, another pair of NB 327 trainers in the same size, a jogger tracksuit, and two T-shirts, ensuring impeccable organization. The top shelf provides easy access to footwear, while the lower drawer is well-arranged for clothing. A stylish red smoked/tinted shelf in the center proudly displays the RED NB logo, enhanced by subtle white LEDs from below for a captivating visual effect.
The New Balance x Raheem Sterling acrylic presentation box seamlessly combines form and function, elevating it beyond typical packaging. It becomes a sought-after collector's item admired for its elegant aesthetics and practicality, celebrating the collaboration between New Balance and Raheem Sterling. It's a piece that fans and enthusiasts can cherish as it embodies their partnership's essence.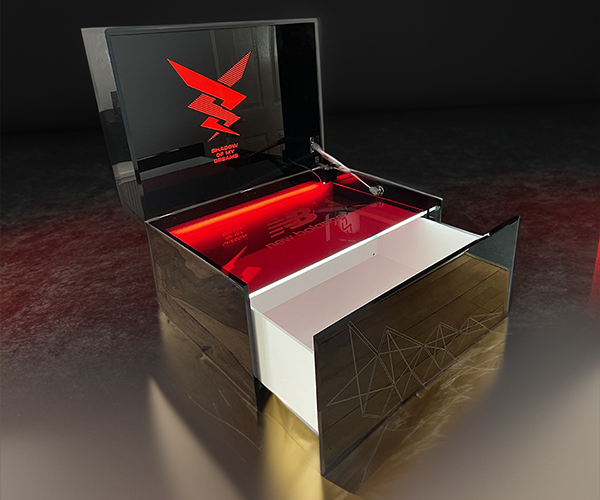 Conclusion
Throughout the New Balance x Raheem Stirling Presentational Packaging project, we fostered a robust client relationship and offered continuous support around the clock. Our collaborative efforts resulted in the successful delivery of a unique experience that harmoniously combined luxury and sport, culminating in an impressive project.
For more information on our Acrlyic Influencer boxes, contact us today on 01276 450220 or email sales@magellanworld.com.