Promotional Power Banks

CUSTOM POWER BANKS WITH YOUR LOGO
BUILD YOUR BRAND AND GET YOUR NAME OUT THERE
Save yourself from the hassle of endless online searches for branded power banks. Simply provide us with your requirements and budget, and our dedicated team will efficiently source the perfect promotional merchandise tailored to your needs. 
TALK TO THE EXPERTS
Call us on +44 (0)1276 450220
Email sales@magellanworld.com

Bespoke services

Save time and hassle

Expert advice and support

Innovative approaches
Contact the experts sourcing the right solutions at very competitive prices
We take great pride in our company's direct sourcing approach, which guarantees superior quality and traceability of our products, from their origin to the hands of our valued customers. By eliminating intermediaries, we establish transparent supply chains that prioritize integrity, offering our discerning clientele exceptional value and peace of mind.
Tech-oriented promotional items have gained significant popularity among companies due to their alignment with the fast-paced, technology-driven lifestyles of consumers. Branded power banks emerge as an ideal promotional product selection, offering usefulness, portability, and compactness to keep customers connected and mobile.
Promo Power Bank: The Perfect        Corporate Gift
Are you in search of a corporate gift that combines both functionality and elegance? Look no further! Our promo power banks are the perfect solution. These portable chargers not only offer a convenient way to keep your mobile devices powered up, but they also double as a promotional tool for your brand. 
By customising them with your logo, you create a remarkable gift that showcases your company's dedication to innovation and dependability. Our extensive range of custom portable chargers caters to various needs, ranging from affordable giveaways for trade events to sophisticated high-powered corporate gifts. 
The premium printed power banks, adorned with your company logo, can even be utilised in-house by employees, ensuring they always have a reliable charging source while on the go.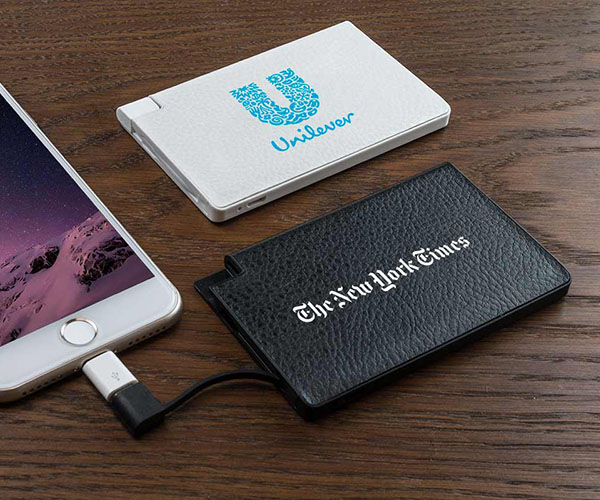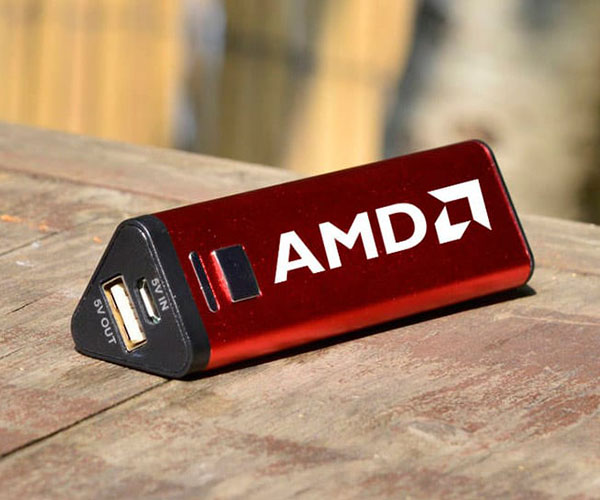 Branded Portable Chargers:      Power Up Your Brand
Elevate your branding with our compact and portable power banks. Ideal for busy professionals, tech-savvy students, and frequent travellers, our branded chargers offer a practical charging solution while prominently showcasing your logo. With quick turnaround times and customisable options, including digital printing and laser engraving, our logo power banks are the perfect choice to advertise your brand in a tech-driven world. Choose from a variety of features and colours to find the power bank that complements your brand identity effortlessly.
Promotional Wireless Power            Bank: Embrace the Future of              Charging
Stay updated on the most recent technological advancements and amaze your customers with our promotional wireless power banks. These state-of-the-art chargers employ wireless charging technology, doing away with the necessity for cables and adapters. With compatibility for Qi-enabled devices, including the newest iPhone and Samsung models, our portable wireless chargers provide convenience and flexibility. By personalising them with your logo, you can display your brand's contemporary nature and dedication to innovation.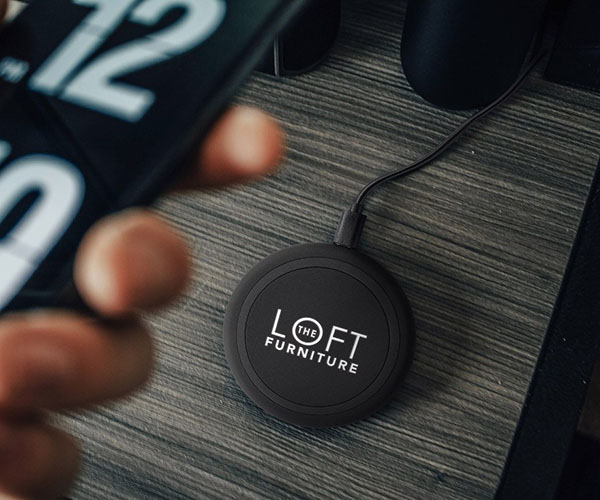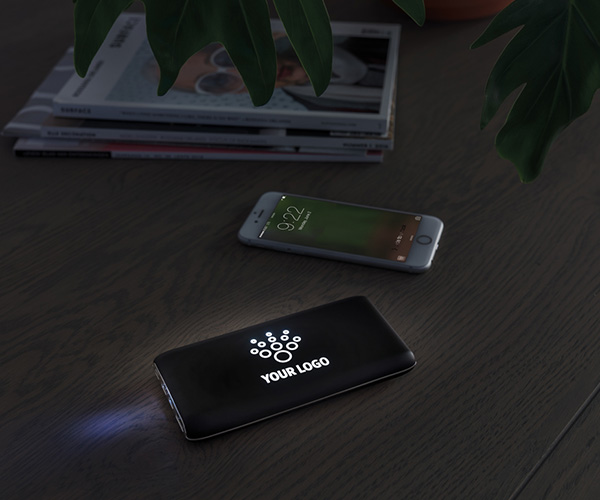 LED Power Banks
Opting for illuminated LED lighting to showcase your branding exudes a daring and self-assured appeal. Typically, these lights illuminate during device charging or when connected to a power source such as a mains charger. One approach involves employing a translucent printed layer atop a backlight LED, resulting in the entire area being illuminated. Another technique involves using the same method but with only the logo allowing light to pass through, while the remaining portions remain darkened.
Eco Chargers: Powering                        Sustainability
On our website, we provide eco-conscious charging options that match your brand's dedication to sustainability. Our range of solar-powered phone chargers utilises the sun's energy to recharge your devices while you're on the move. By choosing a solar charger power bank, you not only showcase your brand but also actively contribute to a more sustainable future. Furthermore, we offer bamboo power banks crafted from renewable materials, offering an environmentally conscious solution for your promotional requirements.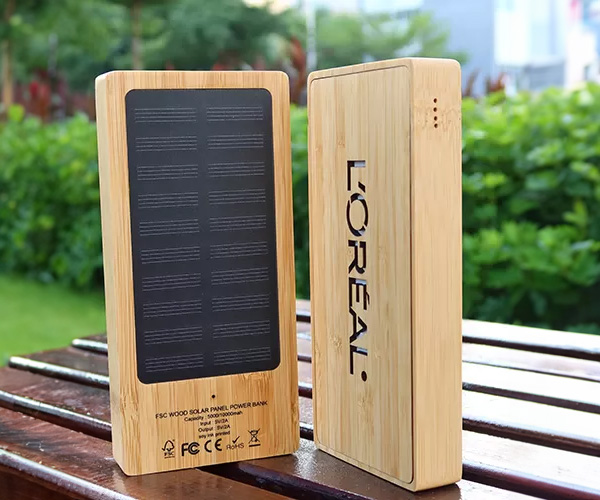 For more information on our Promotional Power Banks contact us today on 01276 450220 or email sales@magellanworld.com.
Check out our Custom Power Banks below…