Bespoke Video Brochures

Bespoke Video Brochures are the latest high impact tool for marketing high value products to target clients.
Magellan World based in Surrey, UK has successfully designed solutions for high profile clients such as 
SAB Miller Beer
, 
Coca Cola UK
 and 
Dubai Pearl Hotel
. 
Customised Video Brochures can be created at our UK manufacturing plant making our lead times as short as possible. When you need to hit that launch date with confidence our team can lead you through the process. We can create a totally bespoke video brochure in sizes from 2.8 to 10" HD screen, the high definition screens are pre-loaded with your video footage and integrated into a custom unique package made from printed board or metal. 
Promotional Video Brochures are a merchandise item that we have over 20 years' experience in supplying to a wide range of customers. We supply custom luxury packaging to our clients with a variety of material options to design and create a truly first class innovative packaging solution to showcase your company. Magellan are the perfect partner to integrate your video brochure, printed literature and fully branded promotional merchandise into a powerful innovative packaging experience for your next marketing campaign. 
Video brochure size options
A5 Softback
This is the standard promotional video brochure we produce. These video brochures are A5 in size. The softback cover provides extra branding space and protects your HD IPS video screen.
A4 Softback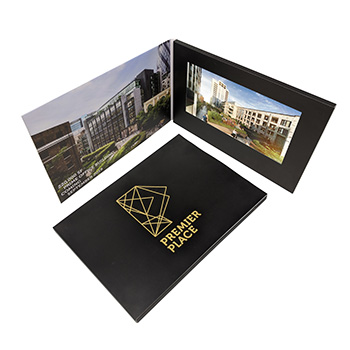 If you require more branding area then our A4 softback brochures are for you. The A4 softback provides double branding area, a larger video brochure allows you to fit a larger screen and more buttons.
A5 Hardback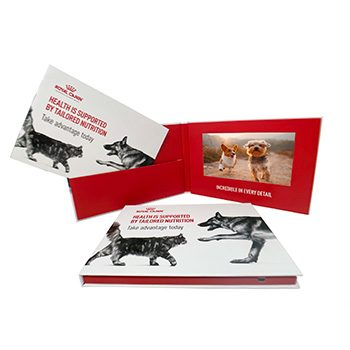 A5 hardback brochures are a professional evolution of our softback video brochures. The hardback cover gives your client a greater sense of exclusivity and adds more perceived value to your video brochure.
A4 Hardback
This hardback option is more desirable as it adds a premium and durable front cover to your video brochure. Our A4 hardback will provide more branding area in comparison to our A5 hardback.
Video screen size options
We can provide a range of different screen sizes to suit your branding needs. The largest screen size we supply is a 10" HD IPS screen. The smallest screen size is a 2.3inch HD screen which is usually used for our Video business cards. Our video screen sizes are; 10", 7", 5", 4.3", 4" and 2.3". The most popular screen sizes used in our video brochures are the 5" and 7" screens.  
Branding options/ extras

Foil stamping

We use a variety of metallic and coloured foil which can be applied to the brochures. Silver and gold are the most popular colour choices and provide a premium finish. Foil logos can be included as well as foil text so long as the text isn't too small. Speak to our team for information on sizing requirements.

Spot UV

We can apply spot UV finished to your video brochures; this can be done in many colours not just black. As the spot UV is oil transparent, they stand out very well on matte laminated brochures.. Speak to our video brochure experts for more information on our spot UV options.

Matte finish

Matte laminated finish is perfect for dark or intense colours, or if you want some spot UV design. These are non-reflective and the colour stay to their truest forms. Most of our brochures include an anti-scuff coating, this will prevent any scuffs or damage to the brochures. Contact our vrideo brochure experts today for more information.

Gloss finish

Gloss laminated finish is great for vibrant colours, and can be used as a way to show of your artwork. This is perfect for designs with intricate patterns. Gloss also preserves the quality of the prints and makes your video brochure stand out and shine in the light. These also can include an Anti-scuff coating to prevent scuffs.

Soft touch finish

Soft touch laminated often gets mistaken for matte lamination. This does look like the standard matte finish but add extra depth to the design. The smooth velvet feel creates a luxurious experience for anyone holding your video brochure. Speak to our experts for more information on the soft touch laminated option.

Customisation options 
Our video brochures can also include a variety of media controls, including; volume, play/pause, fast forward and rewind. You can have multiple videos uploaded to the video brochure, which will play automatically after the last video has finished. Or we can add separate buttons for each video so you can skip through to the video you want.  
Our custom video brochures, can be fully designed to match your brands needs, use these at events, for presentations, or as gifts!