Primark x Josh Denzel NBA
Introduction
Uncover the behind-the-scenes magic of the most exciting sports collaboration. The Primark x Josh Denzel NBA Collection is an irresistible gem you won't want to overlook! Witness the meticulous curation of these Influencer boxes designed to captivate both his devoted fans and NBA enthusiasts.
Client & Project
Primark, known globally for its diverse clothing options, collaborated closely with Josh Denzel over the past two years, appointing him as their first sportswear ambassador. Together, they launched an NBA-themed collection. Josh Denzel, an experienced sports commentator, has worked with various sports TV networks and social media platforms, providing commentary for NBA games in esteemed locations such as Abu Dhabi and New Orleans. To emphasize his commitment to the sport, Primark designed luxurious custom presentation video boxes.
These bespoke presentation video boxes are a testament to Primark's commitment to excellence. They encapsulate the essence of their partnership with Josh Denzel and the shared passion for the NBA. These boxes not only showcase the brand's dedication to fashion but also highlight the unique connection between sports, fashion, and Josh Denzel's commentary expertise.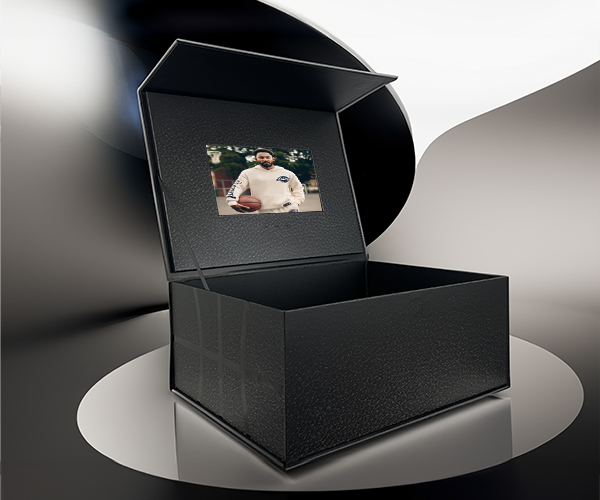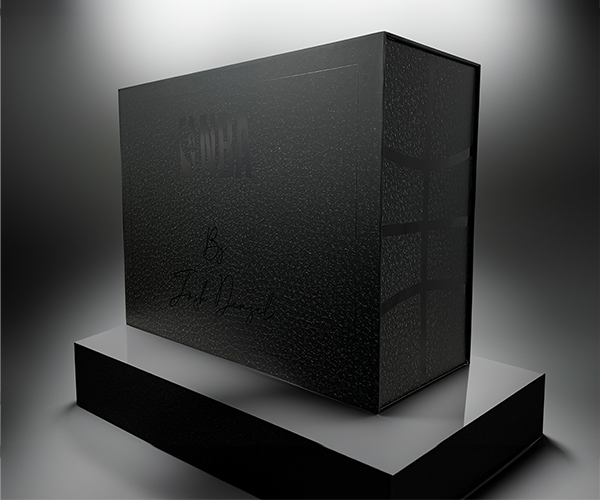 Influencer Box Specifications
In order to tailor the Influencer Presentation Boxes to the unique collaboration of Primark x Josh Denzel, the following specifications were selected to ensure that the packaging perfectly matches the essence of the collection.
Four board case and tray
Magnetic closure
Internal dimms; 400x300x160mm
10" IPS Screem
Three buttons – play / pause, volume up, volume down
Pre loaded video 16 GB memory
Full CMYK print 
Matt finish with embossing / foiling 
Side ribbon colour
The Print
To harmonize with the collaborative spirit and Josh's unwavering commitment to the NBA, the design of the print had to exude a sense of opulence. Notably, for the external appearance of the box, a basketball-inspired look was chosen. These elements were made to stand out through a combination of embossing and foiling techniques, complemented by the inclusion of Primark's and Josh's names set against a sleek black lamination finish. The meticulous attention to detail in the design of this box underscores the extensive effort and dedication put into its quality during their design discussions with us.
The outcome is a presentation box that not only seamlessly embodies their collaborative vision but also serves as a tangible symbol of the dedication and enthusiasm shared by Primark and Josh Denzel for their NBA-inspired collection, encapsulating the core elements of luxury and craftsmanship that define their partnership.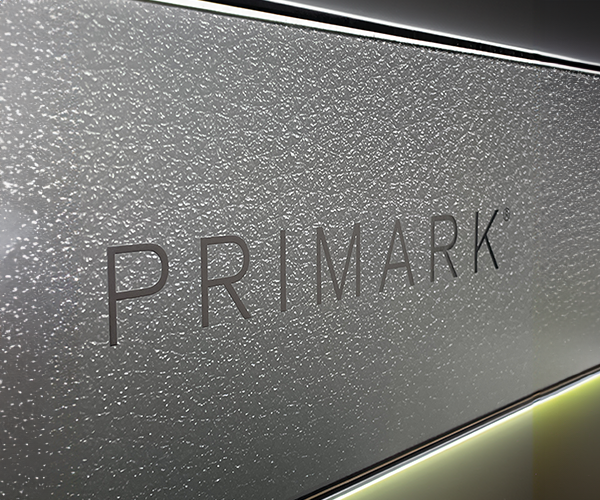 YouTube Video
To gain a more in-depth understanding of the opulent Primark x Josh Denzel Influencer Presentation Box showcased on our website, you've arrived at the perfect destination. While our webpage provides a sneak peek into our offerings, our goal is to offer a thorough explanation and offer you a close-up view of this project.
In this YouTube video hosted by our Managing Director, you will gain a deeper understanding of the intricacies and finer points of the completed product. The video delves into specifics such as the print design and the reasons behind its selection, the video screen integration, and the overall box design. If you share our passion and are curious about the meticulous craftsmanship that went into creating this epitome of luxury, we invite you to watch our YouTube video. Brace yourself for a truly dazzling experience.
Conclusion
These exquisite influencer boxes serve as the perfect strategic marketing tool to integrate into your business, elevating your brand awareness. Embrace an aura of exclusivity while showcasing your latest collection.
For more information on our influencer packaging, contact us today on 01276 450220 or email sales@magellanworld.com.