OFC Vintages
Introduction
Wooden presentation packaging has shown to be highly effective in capturing consumer interest and spotlighting new products—making it an ideal choice for product launches or special events. Check out our successful collaboration with OFC Vintages to see how it can work for you.
Background And The Challenge
Founded in 1870, OFC, or "Old Fashioned Copper," is a prestigious distillery known for its high-quality bourbon whiskey. The founder made a significant investment in premium copper materials to guarantee the utmost purity in their spirits. Adding a touch of luxury to their offerings, they mature their spirits for over two decades with great pride.
In the highly competitive spirits industry, capturing the right audience and maintaining a competitive edge are paramount. This is where the allure of luxury wooden presentation boxes comes into its own. Recognizing OFC's need for a distinguished display for their 6L whiskey bottles, we suggested these finely crafted boxes for both their visual appeal and added security. The sophisticated design of the box flawlessly harmonizes with OFC's upscale brand image, as well as the 6L whiskey, elegantly housed in a crystal decanter.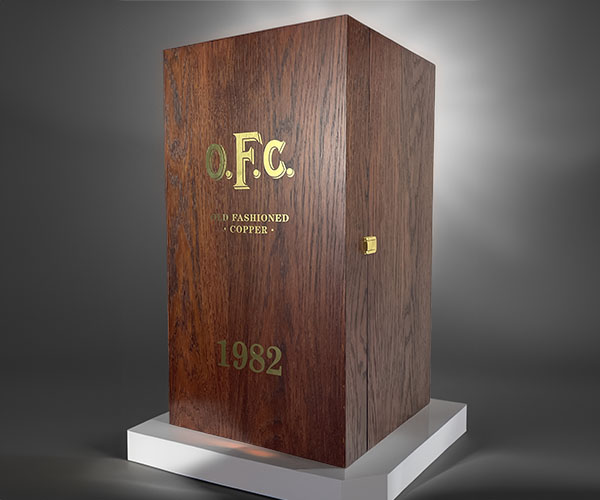 Specifications
Dimensions:
- Left Hand Side Section: 260x40x535mm
- Right Hand Side Glass Decanter Section: 270x250x535mm
Design Features:
- Beautiful stained wood
- Gold foiling for their brand logo
- Leather panels and wrap hinge 
User Experience:
- Gold clasp to unveil the box upon opening
The Finer Details
Gold Foiling: Incorporating gold foiling on the box's front elevates its sense of exclusivity, creating a striking contrast against the backdrop of the stained wood. This choice not only captures immediate attention but also leaves a lasting impression, adding a final touch that's hard to forget. Furthermore, the gold embellishment aligns seamlessly with OFC's heritage in copper materials. 
Utilizing a leather wrap across the entire box serves dual purposes: it not only offers a stable foundation for the crystal decanters but also enhances the box's seamless appearance, thereby elevating the brand's professional image. The wrap cleverly conceals the hinges, adding to the aesthetic appeal, and its integration with the rolled-in die cut provides added security for the 6L whiskey decanters.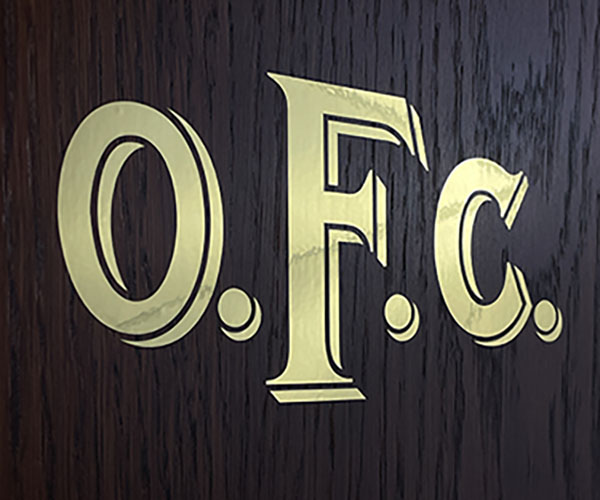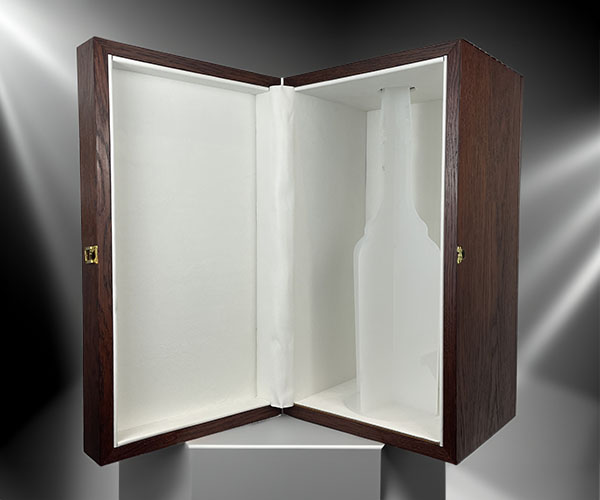 The Final Outcome
The final design of the tailor-made wooden presentation box for OFC Vintage met all of the brand's objectives: it amplified the luxurious essence of the whiskey, ensured its security, and offered an elegant appearance that engaged both customers and those fortunate enough to receive these exclusive boxes.
Our successful collaboration showed that creative packaging can really set a brand apart in a crowded market. This helped OFC become a leader in their field, and we were delighted to have a partnership with such a renowed company.
YouTube Video
For a deeper dive into the intricacies of our partnership with OFC in designing opulent presentation boxes for their exceptional 6L whiskey bottles, gain exclusive insights directly from our Managing Director, Lee. Lee delivers a thorough exploration of the precise elements that have contributed to the boxes' luxurious allure, impeccably harmonising with OFC's brand identity.
To immerse yourself fully in this experience, we encourage you to explore our YouTube channel, where MD Lee provides an in-depth examination of our craftsmanship and the artistic craftsmanship that went into the creation of these extraordinary presentation boxes.
Conclusion
By opting for wooden presentation packaging to display your products, you're unlocking a world of possibilities. Let us assist you in achieving your objectives, as evidenced by our successful collaboration with OFC Vintages.
For more information on our video boxes or influencer packaging, contact us today on 01276 450220 or email sales@magellanworld.com.