Coca Cola Luxury Drinks Box
Introduction
Presentation packaging plays a significant role for businesses, as it adds an element of excitement and anticipation for the products inside. A well-designed package not only attracts attention but also enhances the overall customer experience. We were thrilled to collaborate with Coca-Cola, a company that holds a special place in people's hearts, on their presentation drinks packaging. It was an honor to work with such a beloved brand.
The Client and Goal 
Coca-Cola has been a globally renowned beverage brand for over a century. While its classic soda is a worldwide favorite, the company also offers a variety of other drinks, including flavored sodas, bottled water, and juices. The easily identifiable red and white logo signifies more than just a beverage; for many, it's a symbol of shared experiences and a part of daily life.
A personalized gift box filled with Coca-Cola items would align perfectly with the brand's mission to increase connections and craft memorable experiences. Already a globally beloved brand, Coca-Cola could further solidify its relationship with consumers through such tailored offerings. The box would serve as more than just a container; it would act as a meaningful gesture to deepen customer loyalty, affirm their significance, and promote a sense of joy and togetherness.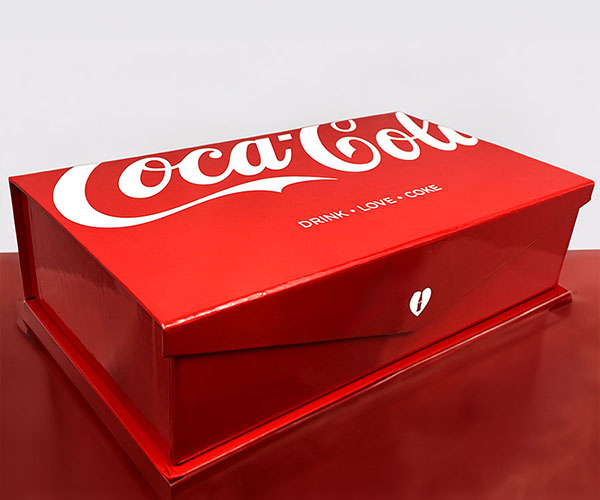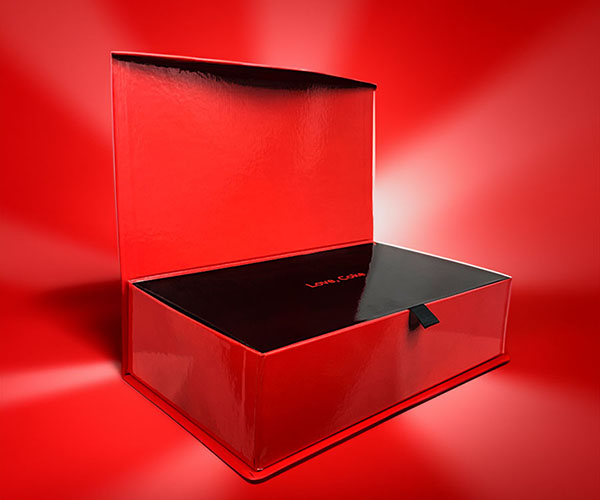 Luxury Presentation Drinks Box
The presentation box boasts a high-end feel due to its glossy laminate coating, which not only adds visual allure but also ensures long-lasting durability, helping the box retain its polished look over time. Enhancing its practical yet stylish design, the magnetic 4-board case and tray contribute a clever element to the packaging. This aspect not only keeps the items inside secure but also enriches the unboxing process, adding an unexpected layer of joy and excitement as recipients discover their personalized items.
A unique twist on the traditional design is the addition of a chevroned flap at the front of the presentation box. This modern design element sets the stage for an experience that's both up-to-date and unforgettable.Acknowledging the importance of environmental sustainability, the box is crafted from 3mm-thick, 100% recyclable cardboard. This eco-friendly choice aligns seamlessly with the brand's morals.
Interior Customisation
When opened, the presentation box reveals a creative interior featuring a lift-up shelf fastened with a ribbon mechanism, along with a simple yet impactful note from Coca-Cola. Considering the brand's widespread fame, the inclusion of such a message might seem unnecessary, as Coca-Cola's reputation already speaks volumes on its own.
Lifting the shelf uncovers a carefully designed foam insert, lined with soft, flocked material to securely hold each item. A discreet recess in the foam houses a personalized presentation card, specially customized for each recipient. A thumb cutout in the foam facilitates easy removal of items, adding an extra, thoughtful detail that enriches the unboxing journey.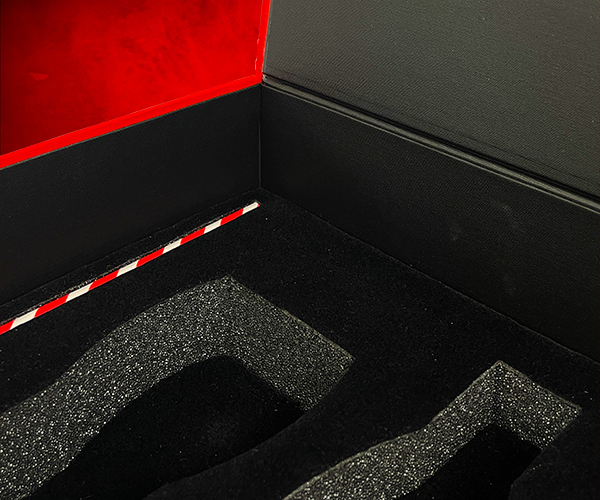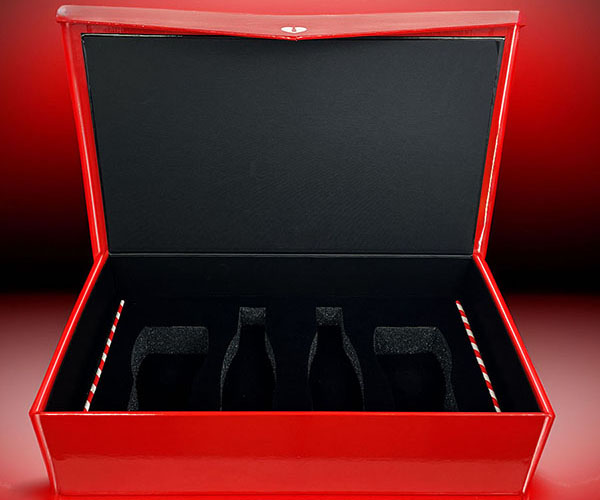 Bottom Layer Foam
In the top layer of the setup, you'll find a curated selection of Coca-Cola treasures: two straws, a set of glasses, and two beverage bottles. These are carefully placed within a foam layer featuring double cutouts for extra protection. The foam's open-cell structure allows for an elegant flocking process, lending a deeper, richer colour to the arrangement and amplifying its luxurious feel.
Conclusion
The harmonious blend of carefully selected items, inventive design features, and the brand's own identity worked seamlessly together, leading to an outcome that left all parties delighted with the end product.
For more information on our presentational packaging, contact us today on 01276 450220 or email sales@magellanworld.com.