Oh Polly x Emily Faye Miller
Introduction
Standing out in the influencer industry is crucial, and Oh Polly and Emily Faye Miller understood this well. Their goal was to achieve a perfect blend of elegance and visual storytelling for their latest collaboration, aligning with both Emily and Oh Polly's esteemed reputations. Here's how we made it happen:
Background 
Oh Polly, a popular online fashion brand, known for affordability with a touch of luxury, joined forces with reality show winner Emily Faye Miller for an exclusive collection. Leveraging Emily's spotlight presence, they aimed to blend her persona with Oh Polly's brand seamlessly, creating a unique collaboration. To stand out in the crowded influencer landscape, they incorporated luxury influencer video boxes inspired by the collection's themes, enhancing the initial unboxing experience.
The luxury influencer video boxes were meticulously designed to symbolize the collection's essence, amplifying the excitement upon opening. In a saturated influencer market, Oh Polly and Emily sought a distinctive element to elevate their partnership, with these boxes making a lasting impression and enhancing the overall impact.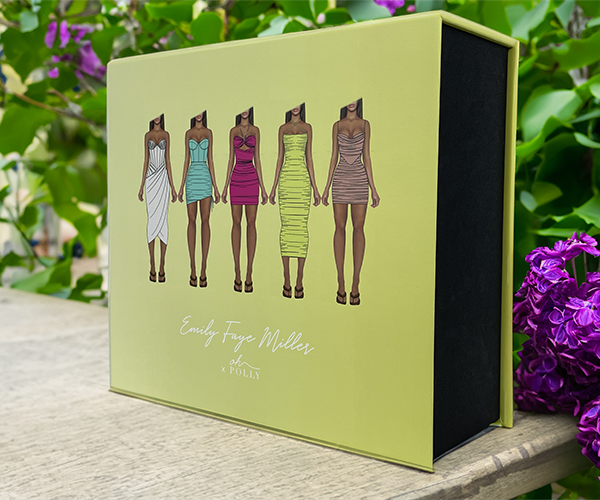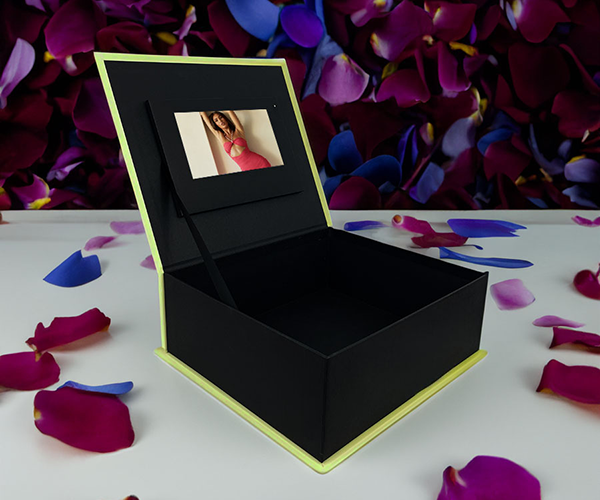 Specifications
Bespoke video boxes are gaining popularity as a means to provide an immersive storytelling experience, all delivered with the utmost luxury. Here are the details outlining how we brought the BMW box to life:
Internal Dimensions – 280x250x100mm
3 Board Presentation Box 
3mm Thickness
7 Inch IPS Screen 
Auto Play
258MB Memory 
Full Colour CMYK Print
Anti Scuff Matte Lamination Finish
Side Ribbon (black)
The Screen
Incorporating a video screen into your influencer packaging elevates the unboxing experience, as demonstrated in the latest collaboration with Emily. The 7" video screen showcased Emily modeling her latest collection and the entire design process, offering recipients a stylish visual story that enhances engagement. This personalized touch adds an extra layer of connection with recipients, ensuring a memorable and engaging experience that goes beyond the ordinary.
Video packaging not only adds a unique level of personalization but also creates a memorable interaction. In this case, it allowed recipients to delve into the world of Emily's collection, fostering a deeper connection and making the unboxing experience something to remember.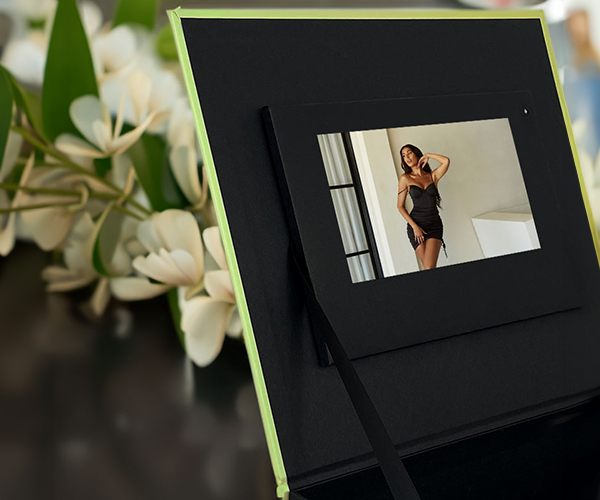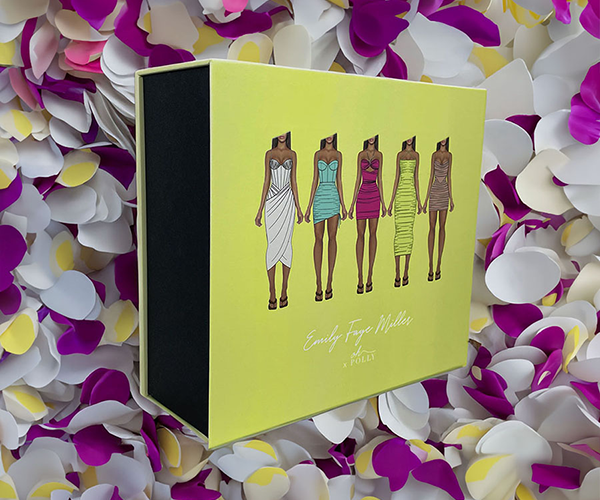 The End Result
The outcome of the Oh Polly x Emily Faye Miller video influencer boxes can only be described with three powerful words: beautiful, captivating, and unforgettable. These boxes were thoughtfully distributed to influencers worldwide, serving as the perfect vehicle to unveil the excitement surrounding the latest collection. Magellan played a crucial role in meticulously packing and shipping every box, ensuring that even the smallest details were flawlessly executed.
This seamless fusion of cutting-edge technology and aesthetic appeal not only delighted the influencers but also inspired them to create user-generated content on social media, magnifying the buzz and anticipation surrounding the collection's highly anticipated launch.
For more information on our video boxes or influencer packaging, contact us today on 01276 450220 or email sales@magellanworld.com.