Tech 21
The Client 
Our involvement in the Tech 21 Custom Branded Video Boxes project was marked by meticulous planning and flawless execution, from its inception to completion. These video boxes transcended mere packaging; they were purposefully crafted to captivate and engage recipients, making a lasting impact.
The use of Pantone 185C red for the logo on the box exterior made a bold statement, instantly capturing attention and conveying Tech 21's essence.
Inside, we meticulously incorporated custom foam fitments for secure item placement, ensuring impeccable organization. The integration of 7" HD video screens, each with 1GB memory and a light sensor, set these video boxes apart, creating an immersive unboxing experience that engaged Tech 21's audience at a new level.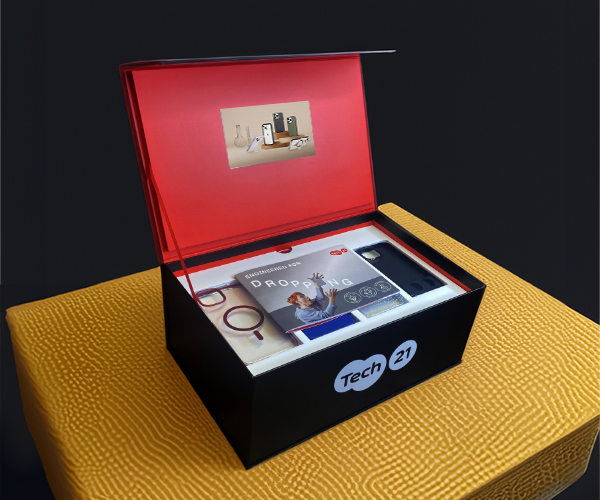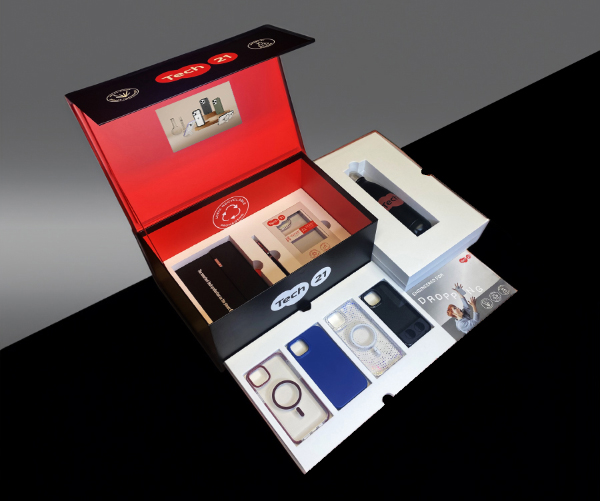 Video Box with Merchandise
Additionally, the 500ml stainless steel drinks bottle was a standout feature. It showcased Tech 21 branding and had an elegant one-colour print, making it a practical and stylish gift.
Each video box also included an A5 Notebook Gift Set, featuring an exclusive notebook with a Thermo PU cover, a black ribbon page marker, a magnetic closure, and 80 sheets of cream-lined paper. Paired with a Tactical click action ballpoint pen bearing the Tech 21 logo, it created a cohesive and elegant theme.
These carefully chosen items added sophistication and practicality to the gift experience, going beyond branding to provide recipients with useful tools for note-taking and a stylish beverage container. This made Tech 21 Video Boxes visually appealing, functional, and memorable.
Video Box Fulfilment
Our dedication to Tech 21's Custom Branded Video Boxes went beyond designing and sourcing. We meticulously prepared each item for impeccable presentation, considering both functionality and aesthetics. Additionally, we handled the shipping process with great care, ensuring next-day delivery to two UK mainland addresses. This precise handling preserved the brand's message and ensured boxes reached recipients promptly and in perfect condition.
In summary, our comprehensive approach to crafting Tech 21's Custom Branded Video Boxes showcases our unwavering commitment to delivering high-quality, visually captivating products. From initial design and precise sourcing to final packing and shipping, we paid meticulous attention to detail, ensuring Tech 21's branding and gifting goals were met with precision and excellence, leaving a memorable impact on recipients.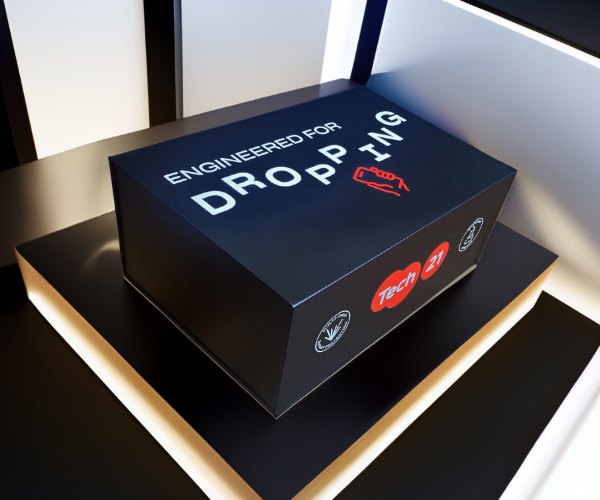 For more information on our video presentation packaging, contact us today on 01276 450220 or email sales@magellanworld.com