Vintage Bottlers
Introduction
Vintage Bottlers Ltd came to us to help them curate a wooden presentation box, to showcase their latest whiskey bottle and It was an honor to collaborate with them; bringing their vision to life.
Background And The Challenge
Known for their dedication to finding the perfect malt whiskey, Vintage Bottlers Ltd were looking for a way to exclusively showcase their whiskey which was presented in a glorious glass bottle; creating an unforgettable experience.
In the highly competitive landscape of the alcohol industry, innovation and differentiation are more crucial than ever. As a collaborative team, we brainstormed how to best spotlight Vintage Bottlers Ltd's premium whisky for a solution that would blend elegance with practicality. It became clear that presentation boxes were the ideal choice to achieve both objective. Opting for wooden presentation packaging was an astute choice for Vintage Bottlers Ltd to elevate their latest product offering. The design concept was meticulously curated to exude elegance, aligning seamlessly with the brand's image and their premium whiskey collection.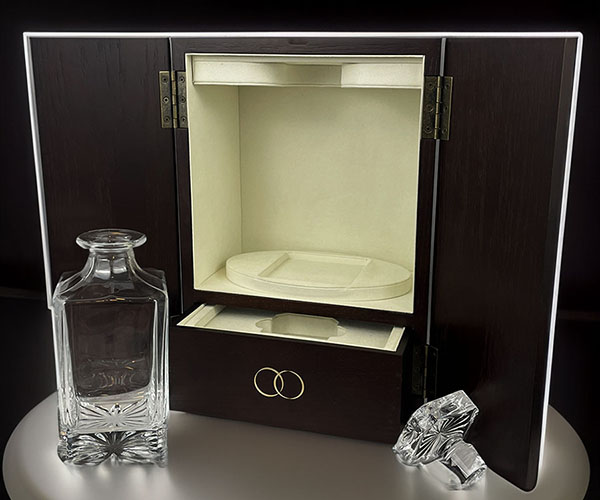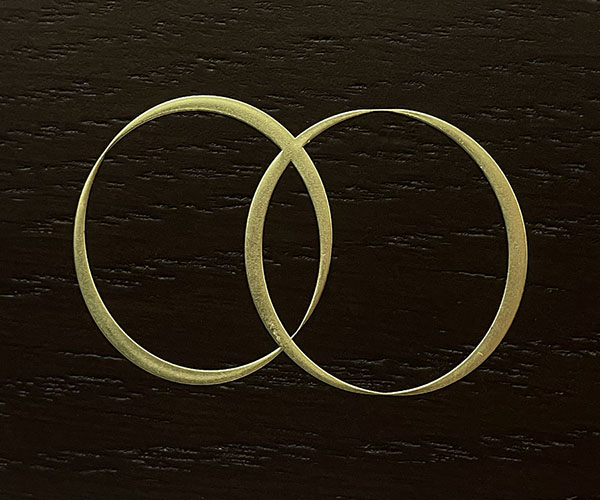 Wooden Presentation Box
Creating a luxurious packaging experience requires meticulous attention to detail and precise specifications. For Vintage Bottlers Ltd, we crafted a truly exceptional presentation box that includes: recyclable wood, gold-engraved rings, a ribbon pull-out compartment, custom suede cut-out fitment, side-by-side doors, ball-bearing hinges, and a custom drawstring pouch. Each element was designed to not only enhance the visual appeal but also to provide functionality, embodying the perfect union of elegance and practicality.
- Bottle Compartment Internal Dimms – 215 x 120 x 220mm
- Glass Lid Compartment Dimms – 205 x 110 x 85mm
Custom Fitment 
To provide a secure yet elegant setting for Vintage Bottlers Ltd's glass whiskey bottle, we incorporated a custom suede fitment designed to perfectly cradle the bottle. This design choice not only ensures the bottle's safety, preventing any potential breakage, but also preserves the thrill of unveiling the product. The suede fitment is specifically tailored to allow easy removal of the bottle while simultaneously elevating the overall aesthetic. 
When showcasing a delecate product, a custom fitment is significant and this can be in whatever material suits your brand image; such as suede and foam.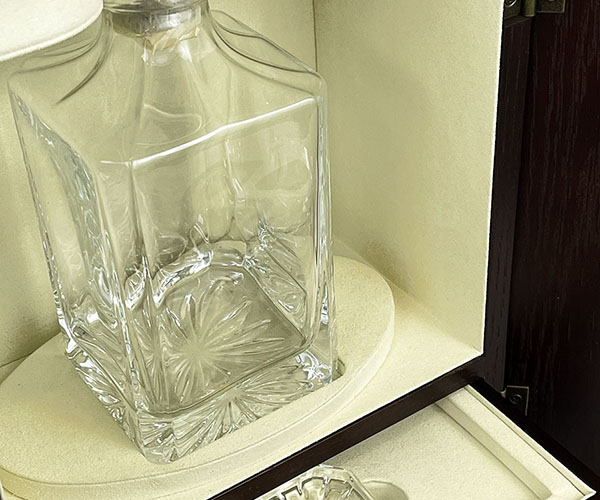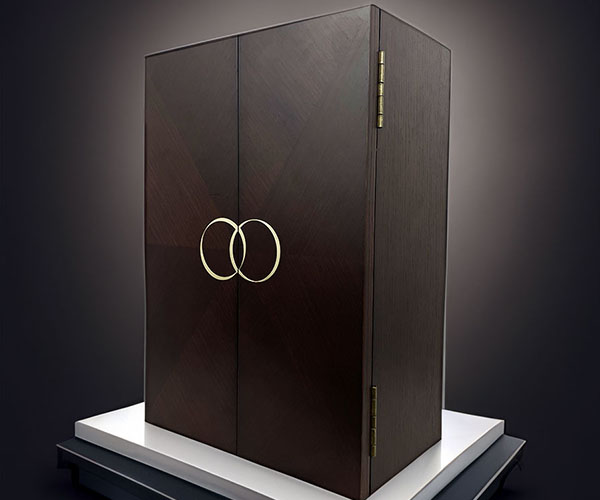 The Outcome 
We couldn't have been more delighted to unveil the final product of the luxury wooden presentation boxes to Vintage Bottlers Ltd. Crafted with a rich, dark wood and featuring double doors, the design amplifies the anticipation of revealing the fine whiskey bottle inside. The specialized suede fitment not only offers added protection against damage but also enhances the box's luxurious feel. Furthermore, the inclusion of a ribbon pull for accessing the additional compartment brings an extra touch of sophistication, completing this high-end packaging experience.
Not to mention, Vintage Bottlers were thrilled that we bought their vision to life!
YouTube Video
To uncover further insights into the beautiful wooden presentation boxes we designed for Vintage Bottlers Ltd and to delve into the intricate nuances of their craftsmanship, we invite you to accompany our MD Lee. He will provide a thorough examination of the exceptional artistry and personalised features on offer.
For a more comprehensive view, be sure to check out our YouTube channel, where Lee takes the opportunity to personally unveil these opulent boxes. He demonstrates how they can truly enhance your brand presentation, offering a firsthand look at the elegance and functionality that sets them apart.
Conclusion
When it comes to displaying high-end products with a premium price point, luxury wooden packaging is the definitive choice. This packaging not only enriches the unboxing experience for consumers but also draws the eye, setting your exclusive products apart. Proved by our collaboration with Vintage Bottlers Ltd.
For more information on our luxury wooden presentation packaging, contact us today on 01276 450220 or email sales@magellanworld.com.