Glenfiddich

The background
Glenfiddich is a Speyside single malt whisky produced by William Grant and Sons which is the third largest producer of Scotch whisky. Glenfiddich means "valley of the deer" in Scottish Gaelic, this is why the logo depicts a stag.
The Glenfiddich distillery was founded in 1886 by William Grant in Dufftown, Scottland. It is responsible for many innovations in the industry such as increasing production to meet demands during the 1920s USA prohibition, building its own coppersmith and cooperage infrastructure, and its iconic triangular bottle. Glenfiddich was one of the few distilleries in the 1970s to expand production, introduce advertising campaigns, and build a visitors' centre. During this time they marketed single malt as a premium brand giving birth to the modern single malt whisky category. Grant and Sons was also ahead of its time when packaging its bottles in tubes and gift tins, so it has always appreciated the importance of presenting luxury goods in luxury packaging.
Glenfiddich is now the world's best-selling single malt whisky, accounting for roughly 35% of sales, and the most awarded single malt whisky in the world
The challenge
Glenfiddich wished to make a video presentation box suitable to carry a sample bottle of their whisky valued at £25,000.
Included in the brief was the need to produce marketing collateral including a corporate brochure, product/ service focused flyers and other materials that would support the communication plan.
The results
Glenfiddich and our team discussed at length what the key is to a piece of high-end, luxury packaging. We settled on the design idea of a soft touch box with a spot UV gloss finish on the lid, a beautiful 10 inch screen inside and a custom foam fitment with a dark grey silk covering. The team and Glenfiddich were immensely impressed with the video box produced and everyone deems it worthy of the £25,000 a bottle whiskey it houses.
Luxury print finish and spot UV gloss
Our design team and Glenfiddich decided that a matt, soft touch lamination on the exterior of the box was the perfect solution for this luxury video box. A soft touch lamination provides a touch tingling sensation to all those who use this box and it marries perfectly with a touch of gloss spot UV to show off a brand in a modern way. The ability to be able to combine a contrast in finishes in a seamless way gives this box a very minimalistic design which places all the clients' attention into that captivating 10 inch screen and their sample of high end whisky.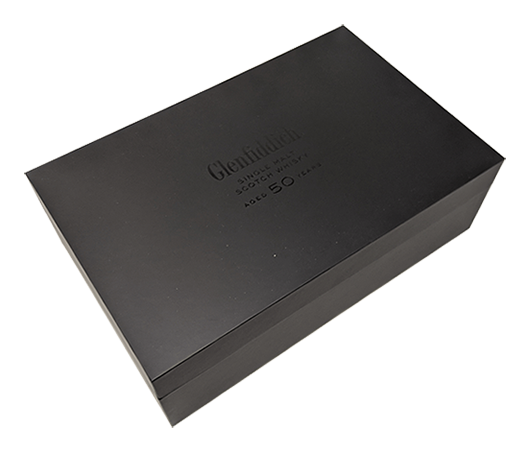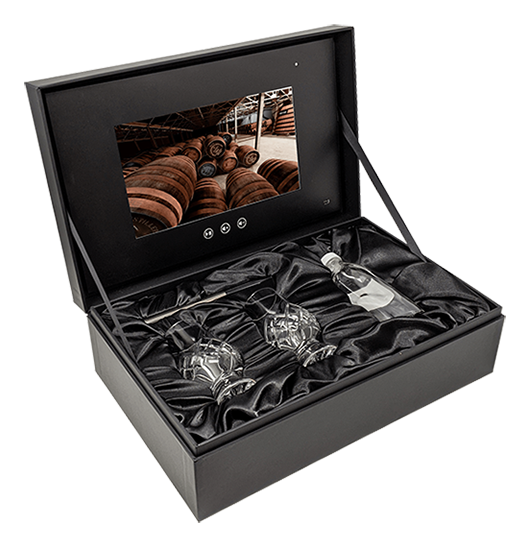 Perfect 10 inch HD screen
This video box featured a 10 inch HD IPS screen to display Glenfiddich's passionate video describing their new whisky which has been aged for 50 years. The 10 inch screen was the only choice in making this extravagant video box as it is the most expensive and exclusive option we can provide. This screen boasts a fantastic resolution of 1024 x 600 which makes it High Definition with an aspect ratio of 16:9. The screen also features IPS technology which allows it to be viewed across 178° without any drop in the quality of colour you see.
Bespoke foam fitment with luxury cover
Inside this video box is the sample of the £25,000 bottle of whisky, two crystal glasses and a platinum whisky pipette all secured within a custom foam fitment. The foam fitment has a dark grey silk cover which hides the undesirable foam under a luxury feeling cover. The foam fitment protects the sample, the glasses and the pipette from any damage if this box were to be shaken or dropped, it is a must have in all packaging.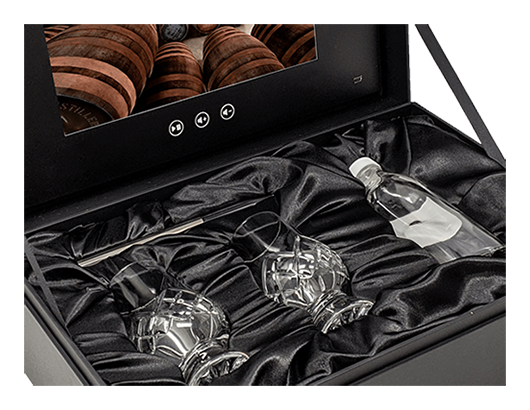 Use the contact page or call +44 (0)1276 450220 to discuss a project or for free expert advice from one of our specialists