Arsenal
Introduction
For a digital yet visually stunning storytelling approach that not only engages your existing audience but also draws in new customers, Video Presentation Boxes offer an all-encompassing solution to present your latest product or message. Discover below how we assisted Arsenal in realizing their vision.
The Client 
Established in 1886, Arsenal Football Club has become an iconic presence in the world of football and now competes in the Premier League at their home ground, Emirates Stadium, located in London. The club highlights a storied history filled with accomplishments and has captivated a massive following of loyal supporters.
When Arsenal sought to create a unique item to highlight their most memorable moments and introduce a new brochure for their committed fan base ahead of the upcoming season, opting for video boxes was unquestionably the right choice. The video boxes not only evoke a sense of excitement but also offer an exclusive experience that aligns well with the club's personality.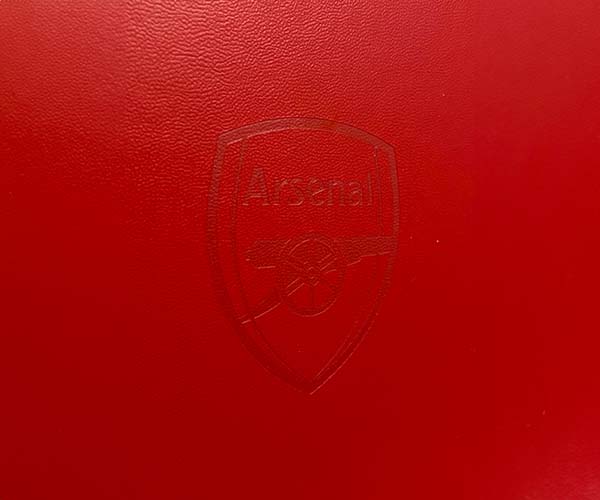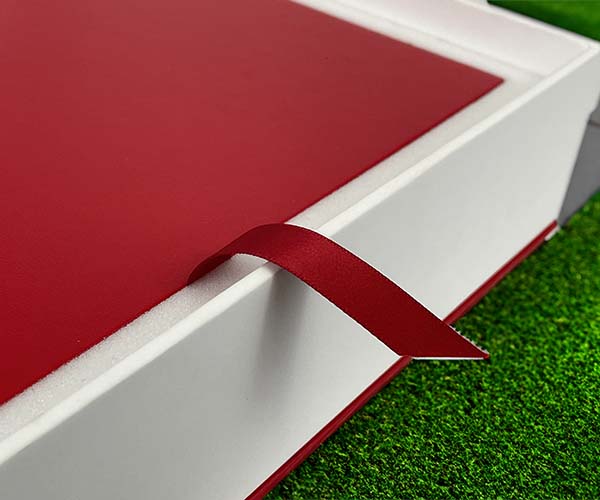 Specifications
To enhance the exclusivity of Arsenal's video box, the following specifications make it uniquely tailored to them:
 – Internal Dimmensions: 326x245x60mm – 4 Part Magnetic Case and Base

– 15mm Red Satin Ribbon Pull (for the brochure)

 – Light Sensor

– 10 Inch Screen 

 – Embossed Logo

– Custom Foam Fitment 

 – Spot UV Finish
Custom Foam Fitment
Arsenal prioritized robust protection for the brochure featured in their video box, resulting in the inclusion of a custom foam fitment. This element guarantees that the brochure reaches its recipients in immaculate condition, safeguarded from potential harm during shipping. Moreover, the foam selected is biodegradable, resonating with a commitment to environmental sustainability.
Adding custom foam fitments serves dual purposes. Not only does it offer the practical benefit of protecting the contents, but it also elevates the overall aesthetics of the package. The attention to detail reflected in the custom-fit foam amplifies the video boxes professional look, while its premium quality underscores the Arsenal's dedication to excellence.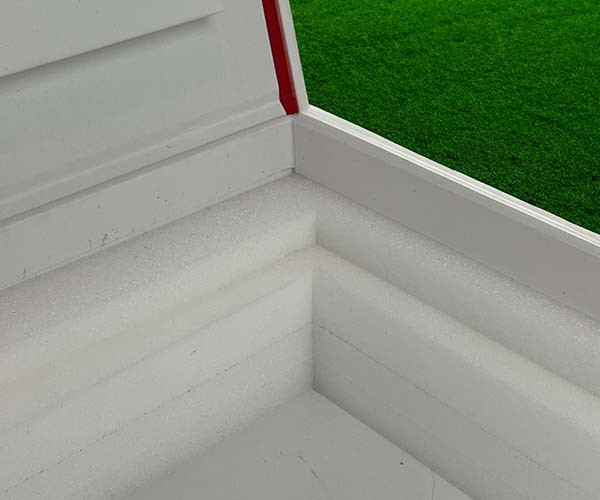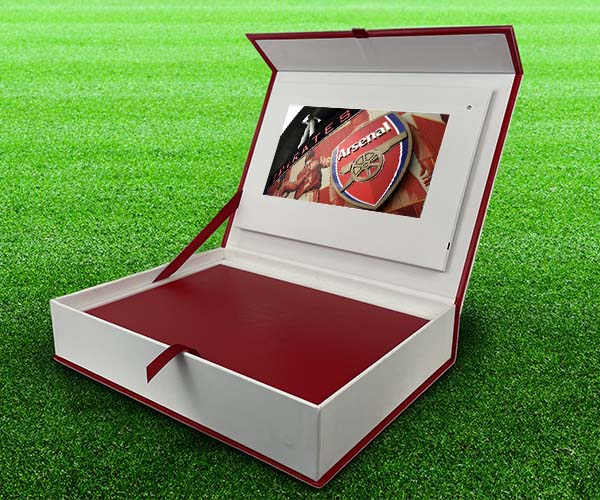 The Outcome
The finalized Video Presentation Box strikes the perfect balance between luxurious design and captivating narrative. The video not only immerses viewers but also keeps them engaged through its visual storytelling. The satin ribbon pull aligns seamlessly with Arsenal's brand while adding a considerable touch of elegance to the package. As a marketing avenue, video boxes provide dual benefits: they give Arsenal a competitive edge and have the potential to draw in new supporters, including those who root for opposing teams.
Conclusion
Integrating video packaging into your business activities can swiftly enhance your brand and newly released products, creating a buzz among recipients. Beyond its luxurious appeal, this approach serves as a well-thought-out marketing tactic.I
For more information on our video boxes, contact us today on 01276 450220 or email sales@magellanworld.com.