Manchester City FC
Client & Project
Manchester City, a prestigious football club, commissioned VIP presentation boxes with a specific purpose in mind. These boxes, initially sent to the club's owner in Abu Dhabi and later distributed to VIP associates, aim to enhance the club's image and create an exclusive atmosphere. By sending these boxes, Manchester City demonstrates its dedication to building strong relationships and showing appreciation to those invested in the club's success. These presentation boxes emphasize the importance of personalised, high-quality gestures in maintaining strong connections within professional sports.
This endeavor encompassed two distinct categories of luxury boxes: the Triple Kit Display Presentation Box and a smaller Manchester City VIP Box. To complement both variants, matching laminate bags were provided, epitomising the club's steadfast dedication to meticulous attention to detail and its resolute commitment to ensuring that every facet of the presentation is crafted with utmost precision.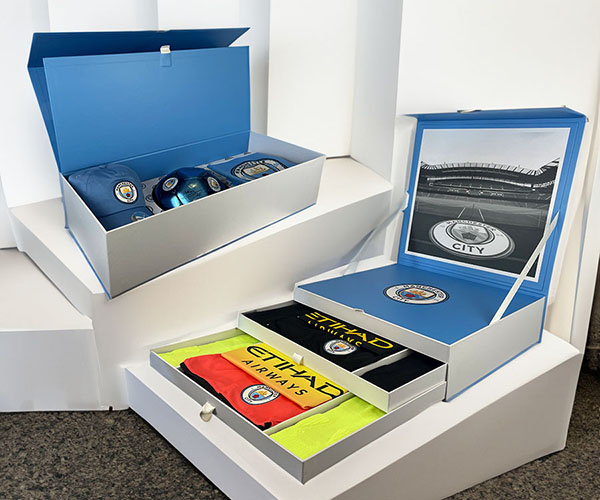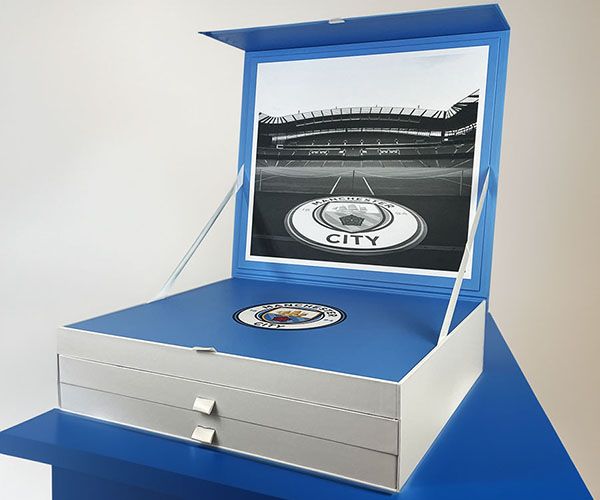 Triple Kit Box
The Manchester City Triple Kit VIP Presentation Boxes and matching bags combine elegance and practicality. They feature a magnetic front closure for secure and sophisticated unveiling, ensuring both luxury and intact contents upon opening. Inside, a stadium image on the lid adds a personal touch to evoke the club's history. The box incorporates an innovative hinged shelf with a ribbon for easy access to the kits, including the main, away, and second kits. Two internal drawers further organise the contents. Vibrant full-colour printing reinforces the club's identity.
These boxes come with ribbons on each drawer for both decoration and ease of use. They hold various kit quantities and sizes, from 30 XL kits to 10 kids' kits, ensuring a perfect fit for every VIP recipient. For added personalisation, a video screen can be included, making these VIP presentation boxes exceptional and memorable gifts.
VIP Merchandise Box
The Manchester City VIP presentation box is meticulously designed to leave a lasting impression, featuring dimensions of 600x260x140mm and constructed from a sturdy 4 board case and 3mm rigid board tray, ensuring durability. Inside, an internal shelf with a ribbon lift elegantly displays items, supported by an inner ridge for structural integrity. Two side ribbons made of gross grain material add sophistication and practicality, while an internal fitment with a printed card keeps merchandise neat and organised.
The accompanying presentation bag complements the box with a solid blue exterior, Manchester City logos, and a matte laminate finish for a sleek look. The bag's interior maintains the blue theme for a cohesive presentation and includes a sturdy 40mm cotton ribbon handle for easy carrying while preserving the overall quality and appearance.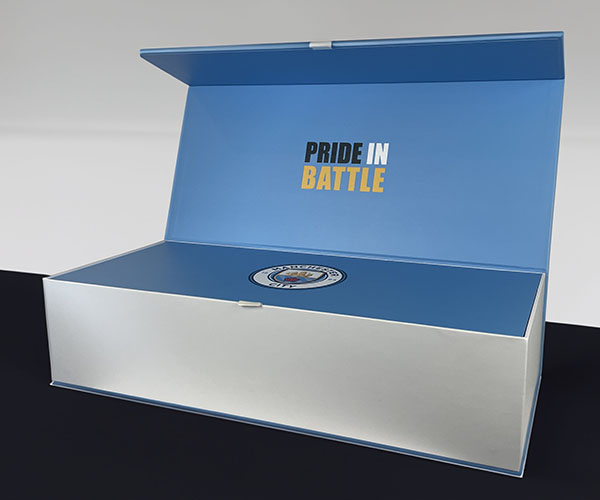 For more information on our presentation boxes or influencer packaging, contact us today on 01276 450220 or email sales@magellanworld.com.