XIX Acrylic LED Presentation Boxes
Introduction
Recognizing the significance of captivating your audience is paramount, and these LED acrylic boxes epitomize luxury. Explore the various options we've meticulously designed for XIX.
The Client & Goal
We demonstrated our expertise by crafting several opulent packaging options for Company XIX, a leading vodka producer. Understanding the significance of aligning the packaging with the brand's upscale identity, Magellan employed a blend of top-notch materials and inventive design ideas to achieve a genuinely lavish aesthetic.
Within this endeavor, we strategically integrated LED lighting and acrylic components to elevate the packaging's visual appeal and convey an air of refinement. The outcome was packaging that not only highlighted the top-tier quality of Company XIX's vodka but also etched a memorable impression on consumers, establishing it as a standout selection in the fiercely competitive luxury spirits market.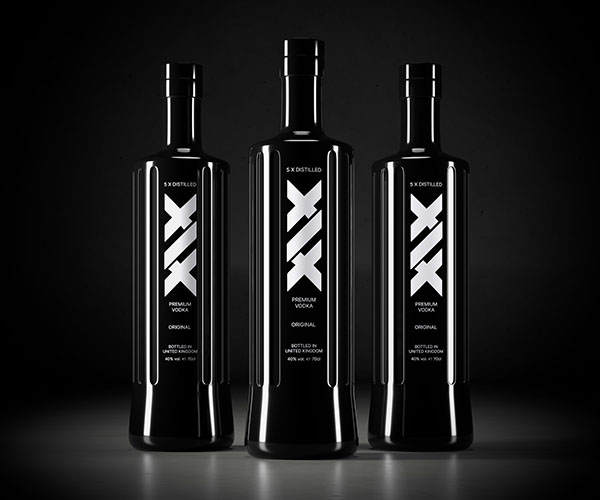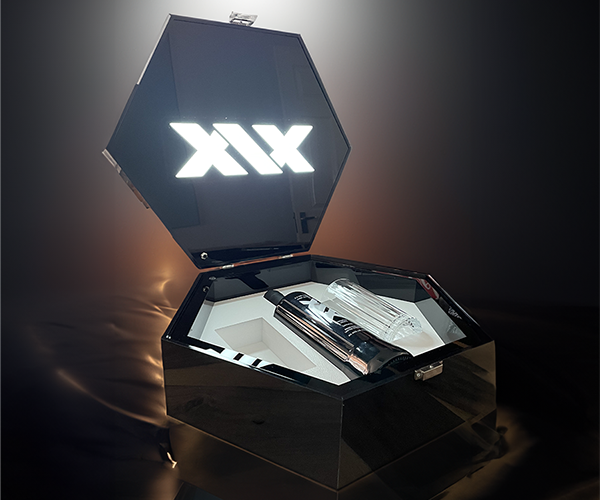 Hexagonal Acrylic LED Box
The Hexagon LED Acrylic Presentation Box is a sleek and sophisticated choice. Its black lid showcases the XIX logo with a white LED that enhances the contents. It's perfect for presenting your XIX bottle and two glasses with an exclusive touch. Crafted with meticulous attention, it features a white leather-look base and custom-fit white foam inside, providing both protection and luxury.
This box impresses with its black and white design and keeps your bottle and glasses safe with white foam inside. Whether for gifting or display, it's a blend of protection and artistry. The mesmerizing LED light adds a touch of luxury and style, aligning perfectly with the XIX brand's elegance.
Infinity Mirror LED Acrylic Box
Behold the Infinity Mirror LED XIX Acrylic Presentation Box, the pinnacle of luxury and refinement. This exquisite acrylic box is meticulously designed to cradle and exhibit two XIX Bottles and two exquisite glasses, showcasing precision and elegance. Upon lifting the lid, you'll be entranced by the infinite mirror, adorned with captivating LED lights that create a mesmerizing visual display, a perfect complement to the exceptional contents within.
The interior of this presentation box is a testament to its meticulous craftsmanship, featuring a plush white leather-like cover atop a soft white foam base. This thoughtfully designed base section securely holds the two glasses and two XIX bottles, ensuring their safety and impeccable presentation.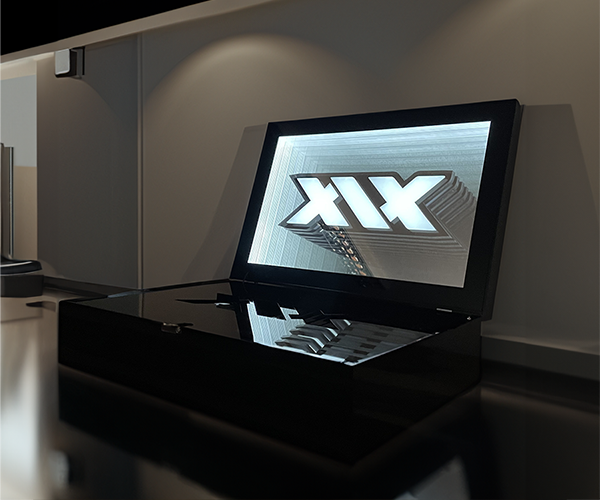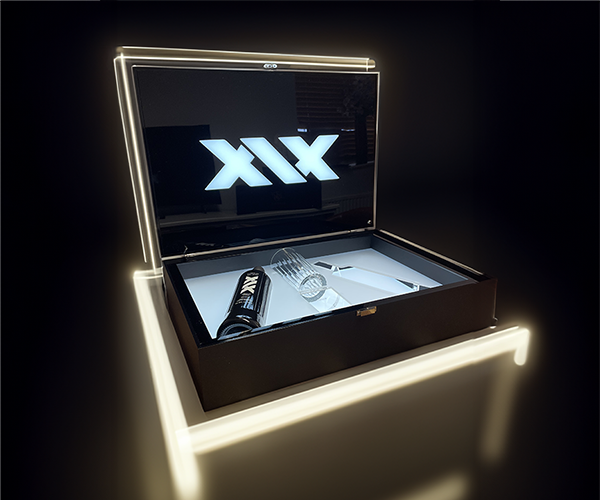 LED Acrylic Presentation Box
Introducing the LED XIX Acrylic Presentation Box, a symbol of luxury and sophistication. This finely crafted acrylic box gracefully holds 2 XIX bottles and 2 glasses. The inner lid, featuring the XIX logo, emits a soft white LED glow, creating a captivating display. The customizable inner base adds a unique touch to your XIX collection. With sleek white leather-like surfaces on top and bottom, paired with transparent acrylic sides, this box bathes your XIX bottles and glasses in a mesmerizing glow, making it a collector's masterpiece.
Elevate your XIX experience with the LED XIX Acrylic Presentation Box. This opulent case enhances your XIX bottles and glasses with a radiant white LED, creating an enchanting ambiance. Its meticulous design ensures a perfect fit for your collection, making it a statement of sophistication and style, perfect for display or as a luxurious gift.
Conclusion
Crafting luxury presentation packaging delivers a premium product that truly captivates your audience. Yet, these XIX LED Acrylic Vodka boxes represent the utmost in elegance and class, elevating brand reputation and offering a one-of-a-kind packaging experience.
For more information on our presentation packaging, contact us today on 01276 450220 or email sales@magellanworld.com.