Video brochures – Your next marketing tool!
Video brochures are the perfect combination of jaw dropping video screen technology and luxury print which are guaranteed to engage your customers more than other promotional merchandise methods. Video brochures allow you to increase your brand exposure through engaging your new customers through an innovative method; they are a fantastic tool at your next expo, a great thank you present or even a nice way to congratulate award winners. Some say a picture paints a thousand words but with video in print you can say so much more!
Why chose Magellan?
Magellan World is the leading experts for LCD custom video brochures in the UK. We guarantee to deliver a second to none client experience all the way from your initial enquiry to delivering your final bespoke video brochure. Our professionalism is reflected in your high quality final product which is certain to impress you and your clients.
We are leaders and innovators in this modern video promotional packaging technique which gets your important message to your customers and engages them throughout. All of our promotional video packaging products are hand made with the very best of materials which allowing you to make your business look its very best with a moving video that can be placed directly into your target customers' hands.
---
Some of our clients
---
Why would you use a Promotional Video Brochure?

Promotional video brochures are a fantastic method for Presentations, Promotions, Direct Marketing, Advertising, Invites and PR. Bespoke video brochures create an instantaneous memorable impression of your promotion on your client.

Clients are engaged with a multi sensory experience which is far more impressive than a normal brochure. When this is coupled with our innovative packaging solutions, your clients will be blown away.

Are Video Brochures right for my business/brand?

Video Brochures can be used by a wide range of businesses across all sectors for any marketing campaign. They are a very efficient use of your marketing budget and are great for small companies or large companies.

Video brochures are ideal if you are looking for a new marketing solution and you are tired of not getting the return you would like to see in your marketing investment. Video brochures are more effective then your normal brochure and will help you and your company.

Is video marketing successful?

Video in print marketing is hugely successful because of mother nature. You and your clients remember 10% of what you read which means that your classic marketing tools are not very successful. If you use a multiple sensory solution and provide information that can be heard and seen at the same time then our retention rate goes up to 50%.

This is exactly what video marketing does and therefore is guaranteed to increase how many clients remember you and your brand.
---
Request a quote for your Video Brochures!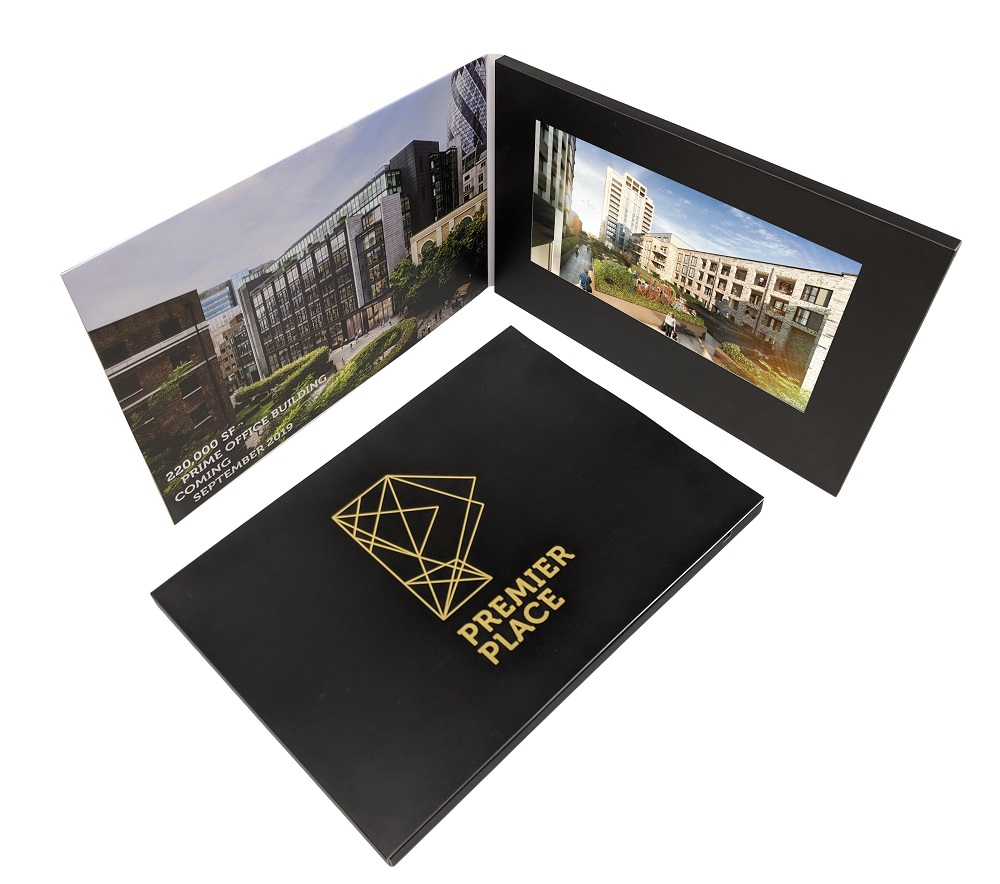 Magellan pride ourselves on being a company that you can talk to. We don't like using forms and emails, we prefer to talk to you over the phone so we can talk you through our process in-depth.
Magellan will guide you through our process on how to spec your promo video brochure. We provide industry leading advice on which printing options are best for you and your brand. You don't need to worry about minimum order quantities, the smallest order we can support is 1! Magellan can cater for every need you have, we can provide the data uploading/changing of videos for you as well as hold the stock and distribute them across the world to individual addresses.
Contact us to get your hands on our video brochure price guide, we can explain the cost of video brochures and how the options can the video brochure price. Get in contact with us today and we can discuss your digital video brochures!
---
FAQ
What memory capacity options can you provide?

Our video brochures are available is 125MG, 256MB, 512MB, 1GB, 2GB and more.
What memory capacity do i need?

For video marketing brochures, we recommend the 256MB option as this provides enough capacity for around 30 minutes of video.
How long does the battery life of a LCD Video Brochure last?
This is dependant on your screen size and battery capacity but with a 5" screen and our standed 1000mAh battery you can expect 2 hours of continuous playback.
What battery options can you provide?
We place more batteries in your video brochure to meet your demand. These are in factors of 1000mAh.
Are video brochures rechargable?
Yes they are. You can recharge them via the mini or micro USB port embedded in your brochure.
Are video Brochures reusable?
Yes, they are 100% reusable. If you need the video to be changed on your video brochure, you can upload a new presentation video file from your PC onto the brochure via the mini or micro USB port and a USB cable.
Where can i place my logo on a video brochure?
We offer a full colour print across the entire brochure. This means you can brand every surface you can see. We also offer luxury finishes such as embossing,debossing, foil stamping and spot UV gloss and many more.
What screen sizes are available for the Video Brochures?
Our range of video brochures are available in 4.3 inches, 5.0 inches, 7 inches and 10 inches.
Which video screen is best for my brochure?
We recommend you chose the 7inch screen for your A5 brochure and a 10inch screen for your A4 brochure. These screens are the largest you can fit inside therefore prodive the best impact.
Which type of screen should i have?
We offer LCD or IPS LCD screens. IPS screens are slightly more expensive but provide a better colour output and a wider viewing angle. IPS screens are the best screen for you and your video content and video message as they provide the best user experience.
I have A5 or A4 literature, can it fit inside a video brochure?
Yes it can, we can design a front flap inside the front cover to hold your marketing materials. This flap would secure your documents and prevent them from falling out when the brochure is moved around and used.
How do video event brochures work?
Video brochures feature either a light sensor or a magnetic system that when you open your video brochure your video will start playing within a few seconds. A custom length delay can be coded in for your video.
Do video brochures come with buttons?
Yes they do, they can feature up to around 7 buttons and are placed around the screen.
Which buttons are available to place on my brochure?
You can use: play, pause, next, stop and volume up and down. You can also have buttons that individually select a video to play.
What video brochure card sizes do you offer?
Our video direct mailers are avilable in either A5 or A4. If you are looking for A6 sized brochures or below then check out our video business card range.
How long will my video brochures take to get here?
Your video brochures will be with you 2-3 weeks after your artwork has been signed off. It typically takes a week for this process to finish.